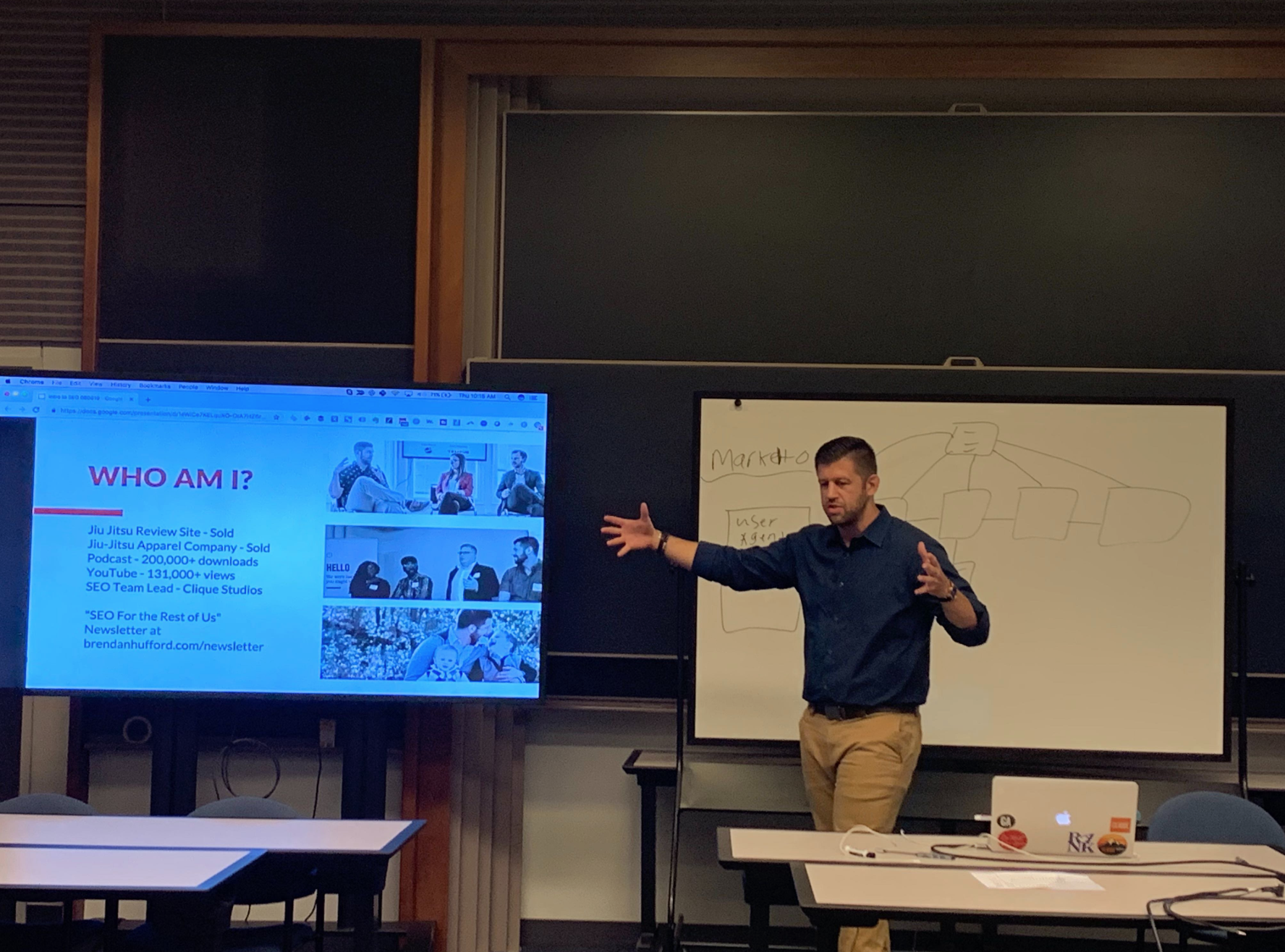 Without a doubt, SEO is one of the best investments you can make in your business. It's how I've been able to grow and sell multiple businesses since 2010.
Hi! I'm Brendan, and I talk with my hands (clearly).
That's me teaching SEO at the University of Chicago.
I work with entrepreneurs who have already established their business and are looking to have a professional work with them on their marketing so they can focus on their craft.
So, when forced to choose, I choose veteran business owners where my work can make the biggest difference.
Sound like you? Click here to see if we're a fit
One of the reasons that I love SEO is that, in our industry, you have to earn your reputation. You have to put in the time, and the work. And it's not easy.
It isn't easy work, but it's what I do.
SEO or "search engine optimization" isn't some sort of mythical process. In fact, I pride myself on being able to leverage my ten years as an educator (I still teach digital marketing, SEO, and analytics at the University of Chicago every semester) to teach exactly what I'm doing in a fully transparent way.
And that's because my business has never been about rankings or keywords, it's been about community.
It's been about business.
It's been about people like you.
By writing here on my site, and leading the team at an amazing agency, I can give you my best, no matter where you're at in your business and career..
Whether you hire me or read the articles on this site, you're trusting me with something extremely important: the future of your business. Honestly, supporting businesses and families in this way is some of the most meaningful work I've ever done.
You, reading this, matter to me, and I hope the feeling is mutual.
Still not convinced? Check out this SEO case study ($0-$42,000):
The number one reason that businesses fail is lack of revenue.
I guarantee that if you could wave a magic wand and fix one thing in your business it'd be to bring in more leads.
Lack of revenue is the number one reason that most photography businesses fail.
They just aren't bringing in enough money consistently.
I'm willing to bet that if you could wave a magic wand to change one thing in your business, it would be to bring in more leads.
Wouldn't it be amazing if you could get more website traffic and leads without doing any extra work?
You're not alone on this, either. Even veteran photographers, like Shane Cleminson, need more leads.
Shane has photographed over seven-hundred (700!) weddings in 15 years.
He's built a great system for closing sales and interacting with clients.  In fact, if he can get in front of a bride-to-be, Shane can make her a client.
It didn't make sense.  Why was he still struggling to provide for his family the way he wanted to?
It seemed like everybody around him was making more money than he was even though he's the best photographer in the area.
Why was he still not making the kind of money he wanted to even though he was doing "everything" right?
He posted on all the major social media sites
He blogged regularly
He advertised on all the major bridal and wedding websites
He went to bridal shows
He tried Thumbtack and other local sites
But to no avail…
Not only did Shane increased his prices, but decreased his hours, got 300% more leads and brought in an EXTRA $42,000 (all without him having to lift a finger!).
That's the power of SEO.
Interested in getting these kind of results for your business? Click here.