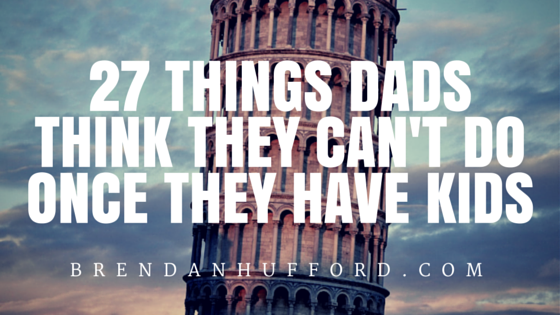 Recently, I saw a video on Facebook, shared by a friend.
With good intention, I'm sure.
But I'm sure lots of dads (myself included), watched this and found a certain lament forming.
A lament that they hadn't done these things before they'd "settled down" and gotten married and/or had kids.
The problem with this notion is that it places your freedom in a box.  Which isn't fair (or true).
"The greatest burden a child must bear is the unlived life of the parents." – Carl Jung, founder of analytical psychology
For my kids, I have to do these things:
Travel with friends
Learn to cook
Become financially independent
Face one of your biggest fears
Live alone
Accomplish a goal
Find your drink of choice
Make the first move
Challenge yourself
Take a road trip
Try a nice restaurant by yourself
Live somewhere else
Learn to drive manual
Find a new show and watch it all in one weekend
Get fit
Build something with your hands
Stay up until sunrise
See your favorite artist live
Make a list of books to read and then read them all
Learn to fight
Volunteer
Try a new hobby
Apply for your dream job
Keep a journal
Have a long conversation with a stranger
Do something crazy and spontaneous
Get to know yourself
I challenge that EVERY father should do every single once of these things AFTER they have kids.
They are all still possible, and probable.  You should do them. You can do them.