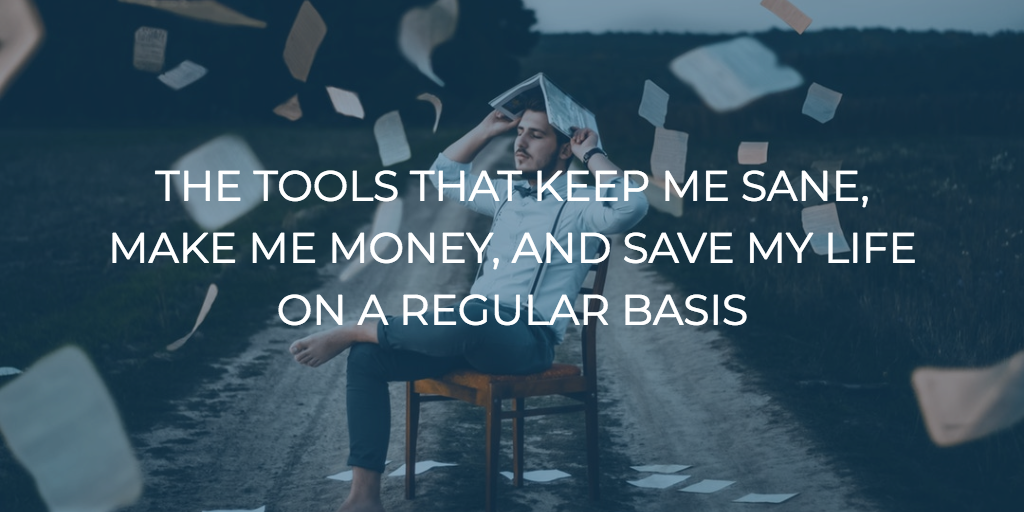 I've always felt like the best and most succinct page on a website should be the resources page.  So, consider this the hub of everything you need for your business.  I'll keep adding to it so check back often.  I recommend bookmarking it for use down the road!
Full Disclosure: A few of the links on this page are affiliate links.  I earn a commission if you decide to purchase them (at no additional cost to you).  Know that I have personal experience with all of these companies and I share them with you because they're what I use and what I need as an entrepreneur, not because of any monetary incentive.  Please DON'T spend your hard earned money on these products unless you feel you need them or they'll help you achieve your goals. Your money is better spent taking your kids out to dinner and getting something nice for your spouse. 🙂
SEO / KEYWORD RESEARCH
The FREE 30-Day One Ranking Away Challenge – Recently, I realized that nobody needs more SEO content. Just the right content, at the right time. I make 100% of my income from SEO and I've put everything I know about building a real business from search traffic into this 30-day challenge.

The challenge builds on itself day after day, acting as a framework that will guide you through getting more traffic from Google without plugins, expensive SEO software, or any other techy stuff.

Ahrefs: I'm not even sure what to put in the description here because I use this tool in every single aspect of my business. It's my go-to keyword research tool, as well as link prospecting, outreach, and it's absolutely essential to the strategy and competitive analysis work that I do for clients.
---
WEBSITE HOSTING
Flywheel:  All of my websites are hosted on Flywheel.  I find it super easy to use, 1-click WordPress installation and great customer service.  Seriously, like the best customer service ever.  When my homepage suddenly redirected to a random blog post and destroyed my search rankings, they investigated it within 24 hour and explained what plugin was causing it.  If you are serious about building something that matters, you should absolutely use Flywheel.

Also, full disclosure: I recommended BlueHost and Hostgator for years (as evidenced those two affiliate links), but their service is so awful. I had so many bad experiences with them and so have thousands of others. Whatever money you think you're saving by going the cheap route you WILL lose.  Flywheel all the way!
WEBSITE THEMES
StudioPress: This is the marketplace that sells all of the themes that my sites currently run on.  Be honest, you see the design of this site and it looks pretty pro, right? If you want to look like a pro AND have a site that coverts, StudioPress is the way to go. Go check it out. You'll be able to see what template I'm using here. 🙂
The Thesis Theme: This is the theme that all of my sites ran on from 2011-2017.  It's not what I use any more, but it's still pretty great if StudioPress isn't your jam. It's super simple out of the box and has built-in SEO (search engine optimization) features, fast page loading, and built-in readability.  The less work you have to do on your theme, the more you can focus on your content, products, and audience.
ONLINE COMMUNITIES
Online communities are what you make of them.If you're like me, you join and immediately look up people who were doing what I'm doing or wanted to be doing and message all of them. I ask a ton of questions and was given decades worth of learning in a couple of calls and emails.  I'd recommend online communities to anybody who is looking to surround themselves with other successful people and create relationships to help further their life and business goals.
Wandering Aimfully: Because of Wandering Aimfully, I have more freedom, more security for my family, and I have a healthier side business and career. It pretty much checks all of the boxes of helping me get what I want out of life. I can directly tie over $30,000 in revenue to Jason, Caroline, the community and their courses.
Fizzle.Co:  I've been a Fizzle member for years. Most first-time entrepreneurs fizzle out.  The things you need to succeed are training and community and Fizzle gives you that all in one place.  There's a reason I continue to be a member month after month.  You can get your first month free by clicking here.
EMAIL LISTS & MARKETING
Mailchimp – It's what I use and what I've always used. I tried switching to Convertkit, but returned to Mailchimp because I didn't have the time to learn a new system.
Dave Chesson of Kindlepreneur recently did a great comparison between Aweber, GetResponse, and Mailchimp.  It's got a solid breakdown of each service and really nails why I signed up for, but may not stay with, Mailchimp.
PODCASTING
Best Of:
Other podcasting articles
CONSULTING
YOUTUBE & VIDEO
Coming Soon
IMAGES & PHOTOS
Coming Soon
BLOGGING
Coming Soon
BOOKS
Coming Soon