Sharing what you've made is, in my eyes, the best thing about podcasting.
That satisfying moment when your audio file has compressed and uploaded and you can see the new episode online, ripe for listening, in its intended and final form…ugh, don't get me too excited!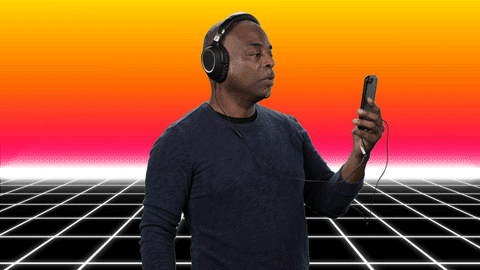 Of course, just like anything in podcasting, it's not that simple.
If only you could just bring your podcast to APPLE and give everyone the option to listen to it…but that's not the world we live in.
But that's just not true. In order to get your podcast to Apple Podcasts, Stitcher, or anywhere else, you need to host it somewhere.
What is the best podcast hosting for me?
There are so many hosting solutions out there and they all come with perks and limitations. Yes, some are more popular than others, but there is no one size fits all.
However, it's good to know what each one can and can't offer you so you can make the most critical, informed decision about where to put your podcast episodes.
But wait, what *is* podcast hosting?
In the simplest terms, podcast hosting holds your files and provides a feed for your podcast. Then, they use that information to tell all of the podcast listening platforms (such as Apple Podcasts, Overcast, Sticher) all the details they need to know about your show, including when to download new episodes.
Just like how there are countless microphones you can buy, software you can use, topics you can discuss, formats you can work with, there are SO. MANY. PODCAST. HOSTING. PLATFORMS.
Like too many. Not as many as website hosting, but still a lot.
In order to become a successful podcast, you will need to figure out which podcast host is best for you.
Let's take a look at seven of the big ones, where they succeed and where they fail, and how they can help you be successful in podcasting.
I don't have stake in any of these podcast hosting services specifically (although some links here are affiliate links), so the facts are laid out so you can decide.
The most popular podcast hosts reviewed
Buzzsprout
G2 Reviews: ⭐️ ⭐️ ⭐️ ⭐️ ⭐️ (based on 1 review)
Pros
You can host your podcast on here for free. Since it's so hard to make money from podcasting to begin with, any platform that gives you the option to post for free begs the question "why not?"
It is very easy to use. Buzzsprout's priority is to give podcasters a quick and simple podcasting platform to share their new episodes. You can upload and publish your podcast in very little time and the platform is designed to be accessible.
You can transfer your episodes to a new host with ease. Buzzsprout has a handy "import" tool where you can transfer your episode to another hosting platform, making it a great place to start.
You can create a shareable video to promote your podcast. Buzzsprout allows you to select a section of your show that you consider to be a "highlight", and it will turn that segment into a highlight video that is watchable from the episode's dashboard. You can also share this video on social media!
Listeners can highlight "chapters" of audio to listen back to. Buzzsprout gives users the ability to add "chapter markers", which allow them to highlight a segment of your podcast that they can easily access at a later time. Think of it as a bookmark that will allow them to better absorb information without disrupting the flow of your episode.
You can track data easily. Buzzsprout is designed very well for podcasters who want to keep track of stats like listeners. It also lets you compare those stats across episodes you publish and show them how they match up against the average podcast.
You can transcribe through Buzzsprout. This is a convenient perk for those who like to publish the written version of their podcast (hint: you should). Sadly (but understandably), it comes at a price: $0.10 per minute, returned to you within 24 hours.
Cons
The free podcast hosting model has limitations. Without paying, you can only upload 2 hours of content a month and episodes published under the unpaid plan are deleted after 90 days. You need to pay for permanency and the ability to upload more content, with prices going up at three, six and twelve hours.
If you have more than one podcast, you need to create a separate account. Buzzsprout's one podcast per account policy might bother prolific podcasters who like to spread their brand over a variety of podcasts. While you can create a new account for a new podcast, you have to take on the burden of paying for that account if you want to upload more than 2 hours of content a month.
You might need to sacrifice audio quality. Buzzsprout converts the files you upload and streamlines them at 96kps, which lowers their quality. While this quality is definitely good enough for standard podcasts, it might irk specific podcasters who really rely on the sonics of their podcast. That being said, you can upgrade the quality for $6/month.
Transistor.fm
G2 Reviews: (Currently no reviews)
Pros
You can host unlimited shows. If you are a serious podcaster with numerous personas, this is a huge plus. Listeners can access your various streams of content in one place.
You can add team members. If you have producers, editors and other people working on your podcast, they can access your page with their own log-in info. Transistor also gives you the ability to manage them through the platform.
The analytics are incredible. Transistor gives you everything you need to understand your podcast audience, with an accessible and exhaustive stats page.
You can transfer your episodes to a new host with ease. Transistor has an import tool that allows you to easily bounce to another platform.
There is lots of flexibility with how your podcast can be listened to. Transistor allows you to make your podcast private, which is helpful if you create premium content. Listeners can also browse the website while your podcast plays and has a "multi-episode player", which is helpful for binging sessions.
Cons
It is relatively expensive and more downloads means you pay more. There is no free model of Transistor. However, you can access all its features at a reasonable price of $19/month, which will get you up to 10,000 downloads. $49/month gets you 50,000 downloads and $99/month gets you 150,000.
It is not for hobbyists. The platform is designed to be used by professionals, which means the listeners it attracts are often big brands. Its benefits are geared towards people with the tools and knowledge to use data to grow their audience, and it is quite expensive. If that's not for you, then this platform's perks aren't that meaningful.
It is relatively new. Since it launched in 2017, Transistor is still working out the ins-and-outs of its platform, and it also doesn't have the established reputation of some of its larger, older competitors.
Libsyn
G2 Reviews: ⭐️ ⭐️ ⭐️ ⭐️ ⭐️ (4.8 stars based on 6 reviews)
Pros
It has a reputation. Libsyn has been around since 2004, making it one of the oldest podcasting platforms out there. If you know what podcasting is, you probably know about Libsyn. Although this comes with drawbacks (see cons), it also means Libsyn has a robust base of die-hard clients who have used the platforms for around 15 years!
It is relatively cheap. While not free, it's base plan of $5/month is about as close to free as these platforms get.
It has a great reach. Not only do many listeners come directly to Libsyn…the platform connects with a variety of podcast directories and podcast websites (such as Apple podcasts), giving you lots of control over where and how your podcast is consumed.
There is an easy RSS link generation. This means that you will have no trouble uploading your content onto a readable RSS feed.
Cons
It has struggled to keep up with newer platforms. In an era where podcast listeners crave glitzy and glamorous features, Libsyn has struggled to keep up. Its simplicity is part of the appeal, but it definitely can feel outdated.
Its cheapest plan has harsh uploading limits. Although $5/month looks good on paper, it only gets you 50MB of audio a month…which is not a lot. You need to go up to $15/month to get a much more reasonable 250MB of content.
You need to pay more for statistics. Analytics are not included in its cheapest plan. $15/month will get you stats, although these are a lot more basic than some of what the newer competitors offer.
You need to pay $2/month to add a customizable domain name. Here is another example of how Libsyn's base price seems attractive until you realize add-ons come with a price. On a lot of these platforms, having your own domain name is a given, even if $2 is relatively reasonable.
Blubrry
G2 Reviews: (Currently no reviews)
Pros
It is has a WordPress plugin. This is extremely useful if you are a blogger who uses WordPress because it gives you a readymade platform to promote your content with ease. Blubrry's PowerPress plug-in is one of the best ways to host your podcast on your WordPress site. It is also optimized for WordPress integration, so if sharing on your WordPress website is part of your promotion plan, Blubrry is a good one.
It is generous with audio storage. Blubrry's base hosting plan offers 100MB/month, but if you end up surpassing it in a podcast episode they won't charge you, given you don't go 25% over your allowance.
It offers great integrated statistics. Blubrry is equipped to keep you informed about your listeners' locations, podcast clients, platforms, domain names, and referrers. This is huge when it comes to tailoring your content to your podcast audience, as well as finding the right podcast advertisers. If you are concerned about monetization, you will have access to all the data you need.
It puts the creator first. Blubrry seems to have a deep-rooted understanding of what you need as a podcaster, and it has many resources to fulfill those needs. For example, they have an exhaustive manual geared towards ease of use and they create content to help you improve as a podcaster.
Cons
For active users, it can get expensive. While Blubrry is pretty flexible with monthly storage offerings, if you really have a lot of content you could end up paying big bucks. If you plan on uploading close to 2000 MB/month you will have to fork over $80/month.
If you don't use WordPress, it's not optimal. Keeping in mind Blubrry is optimized for WordPress, it can get a bit complicated if you try to integrate it into other platforms.
PodBean
G2 Reviews: ⭐️ ⭐️ ⭐️ ⭐️ ⭐️  (4.7 stars based on 10 reviews)
Pros
It offers unlimited audio for $9/month. If you're aware of the limitations on similarly priced plans for competitors, you will see that this is an extremely reasonable rate. This plan also gets you detailed analytics.
It is great for new podcasters. If you want to test the waters to see if you have what it takes to run a podcast without fully committing to an expensive hosting plan, PodBean offers a free option that gives you five hours of content and basic stats.
It lets you create premium content. There is a service integrated directly into the platform that allows you to put certain content behind a paywall and offer it to paying users.
Its analytics are very visual. While data can often be hard to dig through and understand, PodBean is designed to make it accessible and fun to look at, which is a huge bonus if you plan on sharing data with advertisers.
Cons
You need to pay more for certain features. While the unlimited $9/month plan is very attractive, some features come at a higher price. If you want to monetize through more than 2 ad networks and you want a fully customizable player, you need to upgrade to $29/month. Furthermore, multiple admins and unlimited bandwidth come at a price of $99/month.
PodBean doesn't offer audio transcription. While transcription isn't a given for podcast hosting platforms, this is one way that PodBean falls short when compared to certain competitors.
Spreaker
G2 Reviews: ⭐️ ⭐️ ⭐️ ⭐️ (3.9 stars based on 10 reviews)
Pros
It has its own app and recording software. Because many listeners interact with the app for their own listening needs, Spreaker has the advantage of an investment in the listener's side of podcasting as well. It also has a recording software, which makes it easy to centralize all your podcasting needs in one place.
It is optimized for live podcasting. Spreaker stands out by letting users go live, turning their podcast into more of a radio show. This unique feature is arguably what sets it apart from the rest.
It has a free plan. A free plan lets you upload up to 5 hours of audio and create a 15-minute long live podcast. Of course, this is not a lot, but it's a good way to dip your toes into the world without making a financial commitment.
Its premium plan is only $45/month. Compared to other platforms, this is something of a bargain for 1,500 hours of audio, 5 hours of live podcasting and full statistics.
Cons
You need to pay more for advanced analytics. The pricing options span from $7/month to $45/month and each one brings more advanced stats with it. That means if you want to get the most out of the data Spreaker has, you will have to shoot for the most expensive plan.
Live podcasting is limited. Of course, the amount of time you can go live is limited depending on what plan you get. $9/month will cap your live podcasts at 45 minutes. Even $45/month doesn't let you go live for longer than 5 hours.
Castos
G2 Reviews: (Currently no reviews)
Pros
It is optimized for WordPress. Like Blubrry, Castos also offers a user-friendly WordPress plug-in. This solves the issues that come when you try to post podcast files onto your blog by giving podcast hosts a simple podcasting WordPress plugin.
Its base plan gives you everything you need for audio podcasting. The only thing that separates Castos' base plan of $19/month from its premium plans is that once you pay more you get to step into the world of video podcasting. At the bottom tier, you get unlimited episodes and audio storage space as well as advanced stats.
It has a free trial. You can access everything Castos has to offer for a full month without paying. That is huge!
Automatic transcription is included. When you upload your podcast, you get a full transcription uploaded to your dashboard in minutes. This makes it a lot easier for you if you intend on publishing your podcast in a written form.
Cons
There is no cheap, limited option. $19/month isn't as competitive as the starter plans for a lot of these other hosting platforms. That being said, it gives you unlimited storage space, but doesn't allow you to experiment with a more limited experience before you commit to the full package.
You have to pay more to make video podcasts. If you want to be able to republish your audio podcasts as YouTube videos, you need to bump your plan up to $34/month. For $49/month you can take it a step further and host video podcasts.