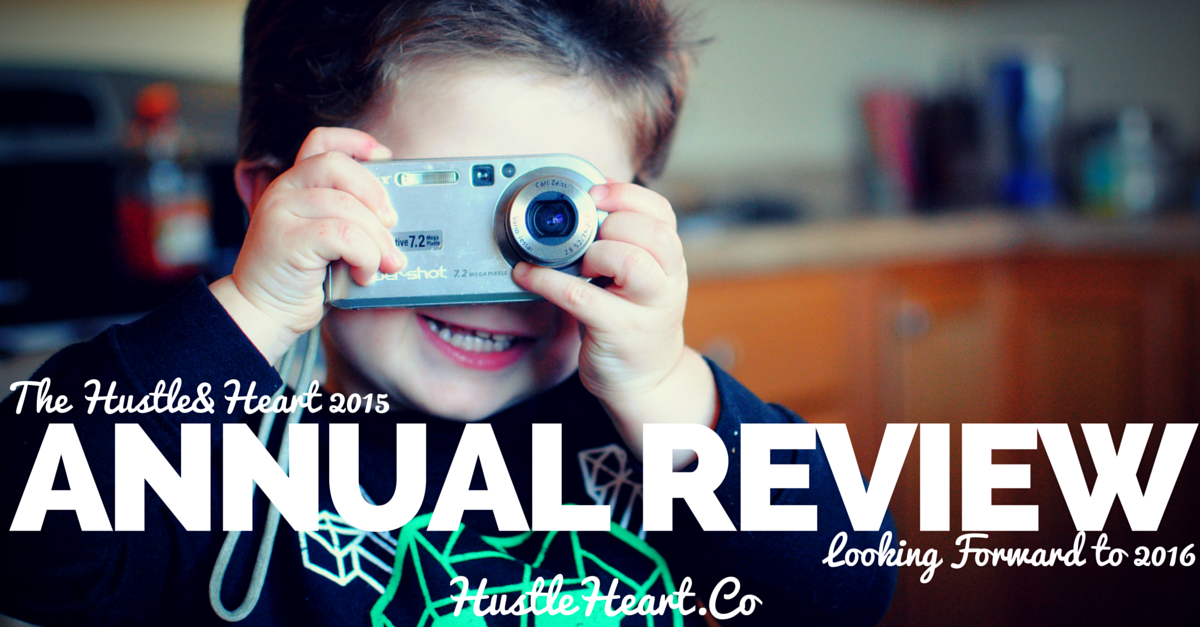 The Annual review continues, and unlike the previous post which was all about the past year (2015), this post is focused entirely on the future (2016).
I've written in the past about my desire to live my life without regret and the motto of Memento Mori:
Memento Mori – Remember that one day, you too, shall die.
For me, it ranks up there with "If you can't, you must" in terms of getting me to take massive action in my business and life.
And if I look at my most painful moments from the past year, the things that hurt the most and derailed my progress (in both business and family), they're all focused on times when I did not take the action that I knew I should have (more on those here).
Given the chance, I wouldn't take a "do-over" on 2015. And since the FUTURE is something that I can control, I get to learn from the past and then forget about it, looking forward to what I (and the rest of the entrepreneur dad community) will do in 2016.

My goals for 2016 will be separated into two main categories that I feel define us as Entrepreneur Dads:
Hustle – Writing, Business and Career
Heart – Family and Health. A much more up close and personal set of goals
---
A FEW GOALS for 2016 – "Hustle" Edition
My Writing, Business and Career goals for 2016
2015 was really interested for me in that I discovered the leverage that creating digital products can provide.  I've been a content marketer from the beginning, both with my BJJ Gi Review website and my BJJ brand's blog, but I never really knew the power of digital products.  Most of my goals for 2016 are in line with that motive.
+Write 180,000 words this year
I've found such a passion for writing this past year.  Publishing on Medium and here on the blog have been a massive part of that journey for me.  In 2016, I'll be pursuing the goal of writing 500 words per day.  It may not happen every day, and I'm totally okay with that.  However, I will be tracking it.
You can track it along with me here.

+Publish a book on the Kindle Platform
By March, I will have published my first book on the Kindle Platform.  I have a working title and an outline, but I'm not sure how deep I want to go on my first book.
Leveraging (there's that word again) the power of the Kindle platform is something that I've spoken a bit with in my mastermind as two of the members absolutely crush it on Amazon books.  Dave from Kindlepreneur and Matt from MasterSketchup are both incredibly successful writers and I'm excited to learn more from them (you should too!)
+Build a new passive income stream
It's taken nearly 4 years for me to make my gi review site passive income.  I still haven't made the decisions necessary to do the same for my bjj brand.
So in 2016, I'll be starting an entirely new business that will be built with the goal of 100% passive income by the end of the year.  Whether that's $500 per month or $4,000 per month isn't as important as having a consistent income stream that I don't have to do ANY work for, especially with a baby on the way.

+Produce 52 podcast episodes
Consistency is key in podcasting and my podcast has been anything but that.  In 2016, I'll produce 52 episodes.  Whether they come out on the same day every week or not is less important than producing the total number of episodes that I set out to produce.  Additionally, each podcast will be published with a high quality blog post to go along with it.  In podcasting, the traditional "show notes" just don't cut it any more (pocasters, take heed!).
+Write 10 ideas per day
Based on the treatise written by James Altucher on becoming an idea machine, I'll be writing 10 ideas down every single day.  The goal here isn't to find my next greatest idea, but to train my brain to come up with ideas quickly.  This will assist me not only in my own work as a podcast interviewer and a business coach (where thinking fast is invaluable), but also in my own business that I'll be building from scratch this year.

+Create a course that I'm proud of
I'm a teacher by trade, and if I'm honest, I don't love either of the courses that I've put out in the past. I knew that all creatives, makers, creators, etc. (whatever buzz word we want to call ourselves) are often harder on our work than we need be. I still get messages about how people are using Sidepreneur University to do amazing things in their lives, but it still doesn't feel right.  I want to make a course as thought out as the ones that I find in Fizzle. (You can see what I mean by clicking here).
---
A FEW GOALS for 2016 – "Heart" Edition 
My Family and Health goals for 2016
Without the Heart to balance out our Hustle, the entrepreneur dad unravels quickly.
Setting goals for my family and my health and as important, if not more so, than the business goals above.
I'm definitely a "feeler" and a guy not afraid to bleed on the page, or show emotion.  However, living intentionally is something that I believe in and accomplishing the following goals will be a priority in 2016.

+Visit my grandfather
My grandfather has been the most consistent male figure in my life since I was a little kid.  He taught me about working hard and not accepting less than I had worked for.
When I bought my first starter deck of Magic cards in 1994 (Revised Edition, back when it was awesome), he made me read the rulebook all the way through THREE times before he'd let me start playing.
He was also the first person to ever invest in my entrepreneurial dreams.  We sat in a hotel lobby at my cousin's wedding.  I pitched him the Jiu Jitsu company and he gave me advice that I didn't take and it ended up almost costing me everything.  However, despite that, he still sent me cash in the mail (because the older generation is awesome like that) with a sticky note on it.  I still have, and will always have, that sticky note.
I haven't seen him in far too long and have missed some pivotal family moments in the last few years. This year I'll be taking my oldest son with me on a father-son trip out to New York to see him.  Out of all of 2016, this is what I am most excited for.
+Call my mom every week
Growing up, my mom called all of our relatives every week. I've written and spoken before about the impact that my mom made on my life, and it's my theory that because my mom always made me talk to my relatives on the phone every Sunday, I never developed the skill for myself.  This may also be because I moved every two years growing up and never had to stay in touch with anybody. This may also be because I'm a selfish jerk. Either way.
I want to teach my sons to honor their mother and they'll follow me example.  I also have a strong desire to honor the sacrifice my mother made for me to be where I am today.

+Take my wife and sons on a vacation
The greatest part of a vacation is the buildup.
The farther out you can plan a vacation, the better.  Much like how I wrote above that I'm most looking forward to taking a trip to see my grandfather, I'm also really excited to be able to use my business to pay for a vacation for my wife and sons.
Many of the greatest memories that I have with my wife are from our INSANE trip to St. John in the US Virgin Islands.  I won't belabor the details (nor will I do them justice), but going on vacations like that has always been really important to her.  It also gives me an excuse to take a ton of photos, so I'm all in.  Growing up, my wife always took big family vacations and I want that for my family as well.
+Stretch and Mobility work every day
This just has to happen. Another year of my neck hurting, a weak core, a spare tire, and all of the other horribleness that comes with sitting so much every day is unacceptable.
This won't help me lose weight directly, but it's the gatekeeper to most of my non-cognitive health goals.  In fact, being able to move like an agile human again might be THE gatekeeper to my cognitive goals as well.

+Work Out 3x per week
This includes Brazilian Jiu Jitsu training.  With a newborn baby, business goals, and other important things going on in my life, I need to set attainable and realistic expectations on my ability to do any sort of training.
Gone are the days of lifting 5x per week and training BJJ 3x in the evenings.  This goal starts and ends with hard training 3x per week. If you're interested in what I'm doing to get the most out of this, comment below and I'll be happy to add that here as well.z
+Meditate 4x per week
In 2016, I'll meditate over 2,000 minutes.  This is double what I've already done since I started (and stopped) meditating in 2015.  I'll be using the Headspace app going forward. I love the tonal background and nature sounds of Calm, but I'm not going to pay for it because I don't feel that it increases my meditative practice.
To build momentum and re-learn much of what I've forgotten, I'm re-doing the Take 10 introduction series in Headspace.  It's free and I suggest you do it as well. 10 minutes per day for 10 days. If you aren't sold on it by then, then you never will be.

+Stick to my diet
I'll be following the Slow Carb diet outlined by Tim Ferriss in the Four Hour Body (if you don't own the book, details of the diet are on Page 7 of this guide from Tim).  I'm not sure on my ability to stick to it, but there are gradual steps built in to keep me moving forward.  The first step is to simply stop binge eating (I've always had a horrible relationship with food, which got worse after I stopped drinking).
---
As Always, Thank You for Being Part of This

Although this blog is only six months old, I feel like you and I have been through a bit already.  Maybe you started reading the blog because you were interested in following what I've done with my online businesses, the HUSTLE.  If so, that's awesome – I have plans to continue writing about all of those things.
I also hope to keep sharing more of the HEART side of this thing – challenging myself (and you) to build a business that matters, supports our family, and enhances who we are as fathers and husbands.
No matter how your 2015 stacks up compared to mine, remember this isn't about comparison.  You might be on Chapter 18 of your entrepreneurial story and I'm on Chapter 10.  You might see this as exactly where you were 4 years ago.
You might also see my Chapter 10 compared to your Chapter 1 and think that you'll never be able to do this.
Remember: we're strong together.  Join our community.  Join the mailing list.
I'm dedicated to making 2016 YOUR best year yet.
If you can't, You must.
---
PS – There's some fun links and a place to sign up for the mailing list below this.  But there's also a space to leave comments.  I'd love for you to leave a comment letting me know:
What are your top TWO goals for 2016?  What will you accomplish that I can check back in with you on in a few months?