Last week I shared an answer that I received to a question. This week, I got another answer.
And I can't stop thinking about it.
I asked a few people that I respect about confessions that marketers are afraid to admit to themselves.
One of those people is Margo Aaron. Here's her response: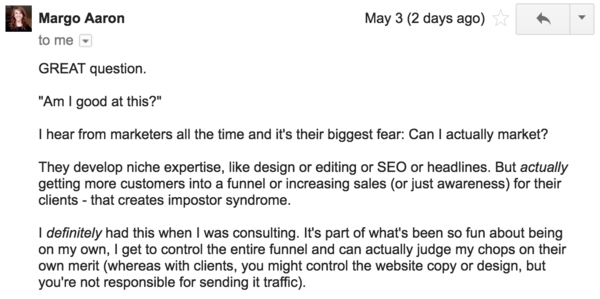 Let me be honest here:
Just because I know a ton about SEO, does that qualify me to do anything other than 'talk' about SEO? Can I actually do it? Can I actually use it to sell things? Can I actually use it to sell things for other people?
I learned quickly that I didn't know ANYTHING until I had to get results based on my skills for somebody else.
Copywriting
Video editing
Filming
Podcasting
Writing
SEO
Design
Email
Paid advertising
Teaching
Plumbing
Even mowing a lawn
For this point, they're all similar. It doesn't matter what you do.
Doing it for yourself is one thing, but doing it for clients is totally different.
The imposter syndrome was real then, and it's real now.
I feel like this all the time.
Part of me thinks that it's because I'm a person that actually gives a shit and wants to do a good job.
The other part of me thinks it's because I'm a person that actually has no idea what he's doing.
I'm still floored when somebody thinks I've done well at something.
Even though I get great results for my SEO clients, I'm still always feeling like I'm behind the 8-ball and not doing good enough.
By sharing this, I hope that you feel less alone in building your thing. I don't think it's just marketers that go through it.
It's bloggers, artists, teachers, parents… it's all of us.
"Can I actually pull this off?" is something we all struggle with.
So what is it for you?
For me, it's marketing. Even though I've proven it to myself over and over, I still feel like a total imposter most days.
What's your "Am I good at this?" Let me know in the comments below.