"I can directly tie $32,000 to having access to Jason, the BUYOURFUTURE community, and the things I learned from their courses." — Me!
I'm not exaggerating that either. Here's the itemized list: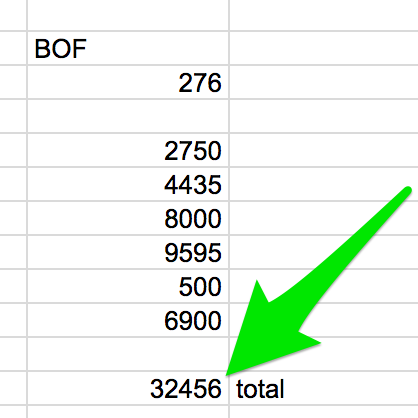 Click on the image below to watch a video of Jason and I going over everything that being a part of BOF did because I took action on it:
"Because of BUYOURFUTURE, I have more freedom, more security for my family, I have a healthier side business and healthier career. It literally checks all of the boxes for what I want out of life and I pretty much stole it from Jason." — Me
If you're curious why I bought it in the first place, read on….
---
For the last two weeks, Jason Zook has been selling his future.
Literally.
For a one-time fee, you get access to all of his past projects and all of his future projects.
Forever.
Note: Jason's future is available at BuyOurFuture.com
And live, on a podcast recording with him (check it out here), I decided to buy it.
I spent $1,000 to buy Jason's future. And I think I got the deal of the century.
Here's Why:
I believe in what he does
The products are a perfect fit for me
People that I trust and believe it, also believe in the work Jason does
Let me elaborate…
I believe in what Jason does
To me, everything about how Jason sells is right. It's creative, it's fun, and it's often never been done before.
If you buy his future, you'll get lifetime access to BumpSale, a rad pricing platform that combines social proof and a pricing model that rewards your early adopters and biggest fans.
I also love that Jason sells without selling. Even BuyMyFuture is being sold so that he doesn't have to do 'launches' ten times per year or spam his mailing list with endless promotions.
The products are a perfect fit for me
I sell things online (sponsorships, jiu jitsu gis, and digital products).
Here's why each of the parts of BuyMyFuture are perfect for me.
How To Get Sponsorships For Anything — I have a Brazilian Jiu Jitsu Gi Review website (GiReviews.Net) that sells sponsorship slots every year. I also do quite well with it, but I'm looking forward to going through this course to learn more and see the holes in my game.
Creativity for Sale — This is Jason's book. I'm 10 pages in and have only taken breaks to write this post. Jason's story is amazing and the way he tells it is even better.
Teachery — I've launched a course previously and delivered it live via webinar. That worked out 'okay' because it reduced the barrier to entry for me to make it happen, but I'd never do it again. Teachery is an amazing platform for hosting your courses. Don't believe me? Click the link and check it out. Also, at nearly $600 per year, I'm already saving a ton when I bought BuyMyFuture.
Finish Your Damn Book — I love writing. And I hate it. Even though I've written this, and you're reading it, it still sat in my brain for 3 days before I even started getting it down. I've written two 10,000 plus ebooks, but pulling the trigger on something even more long-form is something I have yet to do. I feel like I'll need this course.
One Week to Profit — I've made a LOT of money online and also spent a lot. This course focuses on cleaning up the monetary hemorrhages in your business and is perfect for me.
Bumpsale — Mentioned previously, I'm looking forward to rewarding my early adopters and top fans with a fun pricing model later on. Possibly a course that regularly sells for $197 but starts at $10 and goes up $10 with each sale until it reaches $190. I'd lose a bit of money on those first 19 sales, but it'd be worth it for those fans who want to dive in first.
How to Get Sponsorships for Podcasts — I have a podcast, Entrepreneurs and Coffee, that has featured some amazing entrepreneurs (including Jason) and I've gotten asked by potential sponsors in the past to support the show, but it never felt right. I'm really looking forward to diving into this to see how to get the right kind of sponsors for my podcast.
Product to Profit Masterclass — A full guidebook on creating a profitable online product. While I've already done this, replicating the process you used for one product doesn't always translate into the next. Another that I'm psyched to check out.
Plus, you also get these…
People that I trust and believe it, also believe in the work Jason does
Even if you don't dive into Jason's bio, if you look at the people who trust him that I know, you'll see a list of genuine creators.
These are NOT your typical internet-marketing, JV'ing, affiliate spamming, scamming, NLP'ing jokers. (P.S. if you have no idea what I just said, you're probably a good person).
People that I like, like Matt Giovanisci, Adam Clark, Paul Jarvis, James Alucher and Omar Zenhom are the types of people Jason surrounds himself with.
I learned early on, after being burned by a scammy marketer / coach, that if you look at who a person surrounds himself with, you can tell a lot about the person.
Wait, who is Jason?
Simply, Jason does stuff. Lots of stuff.
He's sold his last name twice.
He sold sponsorships for the shirt he wore ever day for years.
He generated over $1m in revenue.
He's been on ever major news network (The Today Show, CBS Evening News, USA Today, and The New York Times).
He has an amazing past behind him, and an even better future ahead.
And he sold it to me.
#DealOfTheCentury