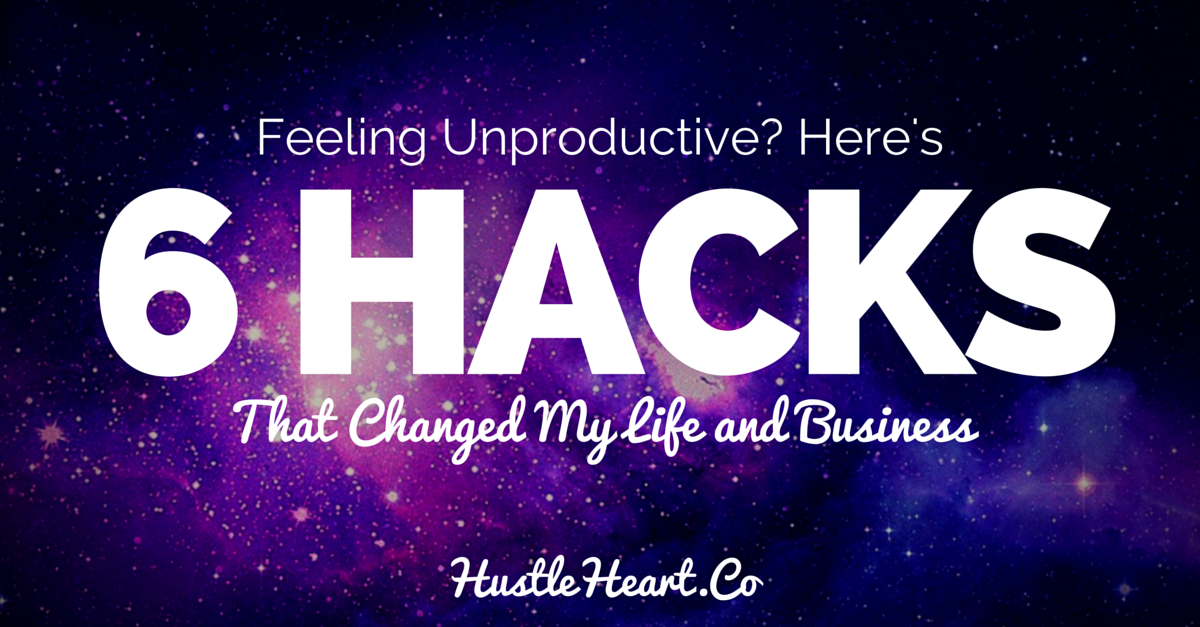 Over time, I've collected a list of productivity hacks that I feel are game-changers for me.  They aren't necessarily part of a larger system but they are a part of the Hustle&Heart Productivity Fundamentals course.
In fact, I used the first tip to write this article. I was listening to an Invisible Office Hours podcast and couldn't focus on writing or listening and decided to use…
The "One Song" Productivity Hack
Tim Ferriss interviewed Matt Mullenweg (who may have actually invented the internet.. not really, just WordPress) and talked about a trick that I'd never thought of:
Find a great song

Play it over again and again.
Sure, I'd listened to music that made me feel powerful and get me in the mindset needed to do certain types of writing, but I'd never tried this before.
Even with lyrics, it'll soon fade into the background. And yet, it's so much more than that.
I'll rock some epic background symphony music and things like that in the past, but it never had lyrics.  I was always 110% convinced that I couldn't write if there were lyrics because it was too much of a distraction.
Also, I found picking music to work to parallels owning a jiu jitsu gi company. Before I started my company and only owned 1 jiu jitsu gi, leaving to go train was a breeze.  But when I owned 50, choosing just one was a nightmare and I'd get a case of "analysis paralysis."
And then I saw an Instagram post from Gary Vaynerchuk and I decided to give it a shot.
When there's only one song to pick, you can get straight to the writing.
When I created my first course (on Productivity, how ironic), it was two songs.
First, 'Oceans' by Hillsong United and second, "Phenomenal" by Eminem.
Then, for this post, it was 'Down South' by Jeremy Loops.
Fellow entrepreneur dad, and one of my favorite people in the world, Chase Reeves, talks about this phenomenon as well.  Reeves notes that he experienced a 'well-worn path to focus' when he used the same song over and over.  He could stop his work (and the song), ride his bike across town listening to a podcast, order food at a restaurant, and as soon as he put his headphones back in and turned the song on, he almost instantly returned to the highly productive work-state he was in before.
Experiment with a few different kinds of music and different songs.  I've found Eminem's latest hit to be great for writing aggressive, honest articles with a bit of spunk to them, but not every article can be written that way, so your mileage may vary.
The Top 5 Productivity Hacks of Tim Ferriss
Tim Ferriss is one of my favorite people to follow with regard to productivity.  He's always breaking down how other people do things and trying to find patterns he can teach to others.  As a professional educator (both online and in the classroom), I find his process fascinating.
A book, written by me, on productivity, would be remiss if it did not include a section on Tim.
Doing things fast is hard, doing things well is more important.
Do the right things, not a lot of things.
Being busy is not being productive.
Here's how Tim gets the most out of his day:
He wakes up an least an hour before he has to look at a computer.  This gives him time to control his day.

He makes a cup of tea and sits down to write (old school; with a pen and paper)

Tim writes down 3 things (5 things, maximum) that he's been procrastinating on, putting off, or things that make him nervous to complete.

He asks himself if he'd be okay accomplishing only those things today and no more.  For any he answers "yes" to (because they're that important), Tim blocks out 2-3 hours to work on it that day.

Patching together time over a day is a mind-killer.  Finding 10 minutes twelve different times over the day is VERY different from working on a task for 2 hours straight.
Don't Answer Calls From Numbers You Don't Recognize
I always used to answer every call that I got, but as more people started to have access to me, that had to stop.  This also goes for Facebook messages, Twitter DMs, and every other personal messaging service.  If you don't know them, don't answer.
I always always afraid that I'd miss out on a big opportunity if I didn't answer.  It's called FOMO (Fear of Missing Out), and it's a bitch.
I can tell you, in retrospect, not one single time did I ever answer a call or message from somebody I didn't know and think to myself, "Man! I don't know what I would've done if I would have missed that call!"  If it's important, they'll call back.
But Brendan, what if it's my kids or my wife calling?  Odds are, you have their school, workplace and personal numbers programmed into your phone.
If you don't, stop reading and do that now.  
…
..
.
There, doesn't that feel better?
Now they won't be unrecognized numbers and you're allowed to answer.
There are lots of services out there that will allow people to leave messages for you and, in today's connected society, they know you saw they called you, so they'll either get in touch via other means, or it wasn't that urgent to begin with.
Don't Answer E-Mail First Thing in the Morning or Last Thing at Night
I think it's important to add that email is not only bad first thing in the morning, but also late at night.
See also: Twitter, Facebook messages and posts, etc.
It messes with your priorities and plans you had for the day and if you check it late at night, you'll struggle falling asleep as your mind races to find solutions to problems presented in emails.
Don't waste time with the time-wasters: customers, clients, and even friends who are low-profit high-maintenance.  
They cost a lot of your time and effort and you're better off spending that time building friendships with high-profit people whose life you add value to and they respond in kind.
It may seem crass, but it's not unusual for me to respond on Facebook with 1-2 word superlatives in response to a message, like "Cool!" or "Awesome!"
It's most often because I'm just very busy and want my friend to know I saw and acknowledged their message, but also because, sometimes, it's a high-maintenance type of person.  Find the 20% of people who are bringing you 80% of your profit (there's that rule again!) and over-communicate with them.
Don't Carry a Phone on You 24/7
Your phone is your leash to the world.  If you have it with you for emergencies, keep it in the car when you're with your family.  Leave it at home when you go out to dinner with your lady.
Even if you resist checking your phone constantly, the fact that it occupies part of your brain is even worse.  Be fully into your business when it's time, and when it's not, be fully out.
Don't Expect Your Success in Business to Fill Other Voids in Your Life
Read that header again and consider that having a successful business will NOT:
Help you get over the fact that you hate your body
Fix your broken relationship with your spouse
Bring your father into your life
Note: I wrote that list for you, but it's from a place of earnest because I've used my business to try to fix all of that.
Let me tell you, it won't. It'll only make those problems worse. 
Please, don't destroy your health and relationships for "the hustle*."
My mastermind meetings every week are sacred to me.  I rarely let them get interrupted or re-scheduled though they do, sometimes (Thanks, Dave Matt, and Renee. You're the best.)
I've taken "workations" before and taken time away just to drill down and work super hard for a period of time, but don't ever think to yourself "Oh, I'll just spend all weekend on this and get it done."
I also defend my family time in the same way that I defend my mastermind group meetings.  Nothing else interrupts it unless it's going to cause catastrophic problems in another area of my life.
Nothing in your business will replace time you spend on outside hobbies or time with your family.
*Don't martyr yourself for the sake of hustle. Work hard AND smart.
"Choose a goal, accept the contract. Do the work." – Me
Reading blog posts about productivity hacks is a start, but it's not the whole picture.  If you want to start doing work that matters and making the most of the little time you have, check out the Hustle&Heart Productivity Fundamentals Course.