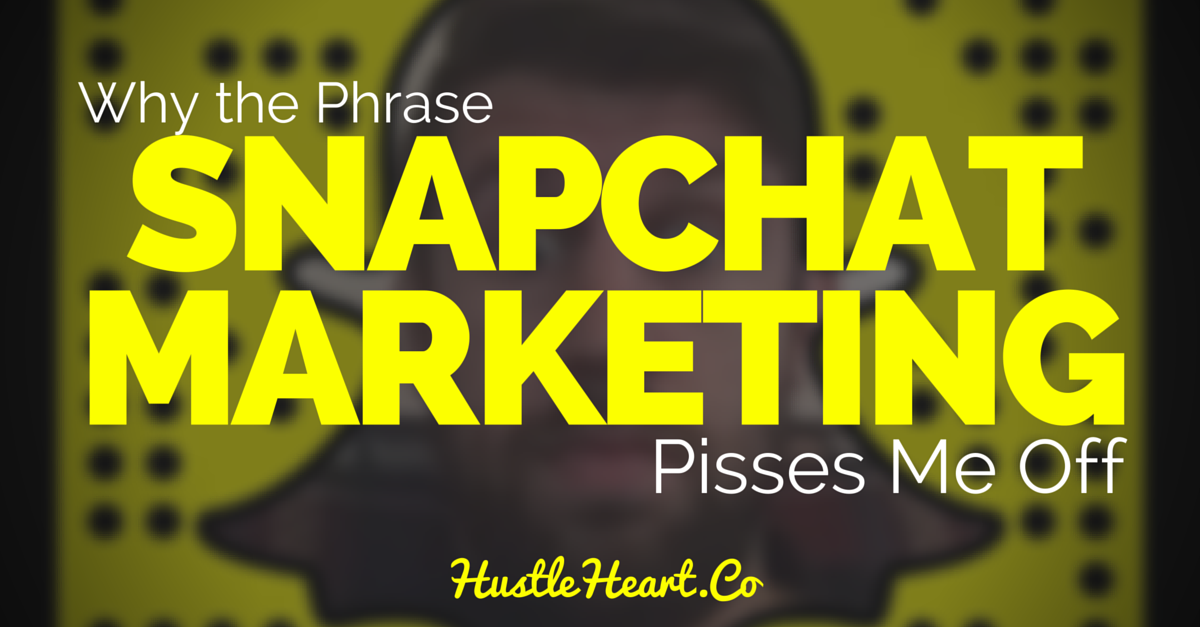 Dear Entrepreneur Dad,
Stop being scared of Snapchat.
Just because your kids were on it a year ago, doesn't mean it's for kids.
Look at what Facebook has become in the wake of it being for college 'kids,'
Lately, my man Gary V has been so hot on Snapchat that I couldn't resist any longer.
I was on it once, long ago, as a younger man, but then I left when the two people I enjoyed following on there (Casey Neistat and Bobby Hundreds) left too.
More content making, less content taking and all that.
So I went back to making and selling.  Selling in the same way that I have for the past few years: using my skills as a blogger and on social media.  It was easy at first because nobody else in my industry had those skills.
But the game has changed.
Periscope hearts.
Retweets.
Social media (that includes blogging).
None of it is what it used to be.
And for me, that meant that my followers weren't translating into sales like they used to.  I could post a photo and get 500 Instagram likes, make the product, and sell 2 of them.  Memes don't make the money.
Big brands, marketers, and spammers have ruined most of the big platforms.
And although I love to write, sometimes I just want to share a quick update. A single thought or idea that I'd like more than 12 of my 7,000+ Facebook fans to see.
Enter: Snapchat
**Don't forget to read to the end of the article for a short checklist for rocking it on Snapchat!!
What makes Snapchat different is that it's a messaging and storytelling app.
Not a social network.
No ads.
Nobody forcing you to see crap you don't want.
No organic search or hashtags.
No gaming the system.
This means that people are paying more attention to the snaps that the media on any other platform.
And it's the best way to build your personal brand (AKA be yourself).
It's just you and your viewer.
But that also means that if you go on there trying to convert people into email subscribers and customers, using it to PUSH, you'll fail.
And I love that.
Every single article I see on Snapchat marketing makes me want to fucking vomit. Snapchat isn't for marketers and when somebody is trying to sell you there, it's a major turnoff.
Here's why Snapchat is going to change the game for those of you trying to market like its 2016.
1. It's Made for the Hustlers
It's made for David. Not Goliath.
For instance, I found Mike Vacanti (SC: mikevacanti) via Gary Vaynerchuk and started following him on Snapchat.  Not only is he making great snaps that follow ALL of the rules at the end of this article, but he also hustles his face off.  He answers every private snap with a video snap back and then never disappoint.
With one on one messaging that people WANT to get (who DMs on Instagram? Creepers. That's who.), you can engage more easily and clearly than ever before.
I take back what I said earlier about the almighty blue book.
Don't get me wrong, the fact that they destroyed organic reach of pages and think they know what I want to read and watch better than I do is absurd.
But marketers advertising and spam didn't ruin it.
My mom did.
I love her, and it's not her fault. But it's her generation.  It's the fact that they just discovered throwback Thursday and tag you status regular updates like:
Hey, Brendan. Remember when we went camping that one time and your Aunt June got lost?  You didn't care about anything but your baseball cards.  Don't forget to call us on Sunday. Tell Lizzy, Evan, Finn, and the DOG that we love them. Give them a hug for me. – Mom
The fact that snapchat is so damn unintuitive and hard to use means that if you can't program the Blu-Ray player, you aren't going to be on Snapchat.  It skewed young at first (13-18, not my target audience) but it's slowly aging up and those 'kids' are now hustling their faces off.
This means it'll continue to skew young and will continue to turn off the older generation.
2. It Demands Your Attention (Like Right NOW!)
 One of the things that I've always loved about streetwear is that stuff was limited edition.  I have 3 pairs of shoes from The Hundreds that nobody else will ever have again.
I love that.
I got back on Snapchat I love the ephemeral nature of the content.
With the 'Stories' feature, everything you post will only be up for 24 hours.
Then it's gone, forever.  It sucks for people building evergreen content or hoping to be discovered (nobody will discover you on Snapchat).
But for attention, it KILLS.
Word of mouth is still the best marketing tool on the planet.  A Facebook share or a regram is worth .01% of my buddy telling me to go by The Martian because it's one of his Top 5 Books ever.
Snapchat demands that you hear about following somebody from someone that you know and, likely, trust.  The only way to pass things on and share things on Snapchat is by telling a friend to check it out.
3. We've written, Photographed, and Now We Direct
Twitter was for writers.
Instagram for photographers.
Snapchat is for directors.  My two favorite people to follow on Snapchat were Casey Neistat and Bobby Hundreds, two guys who are brilliant at telling story through video.
There is very little you can do in terms of editing, lighting, angles, and the filters are few.
I can't upload anything non-native (what is killing Instagram) and that kills those trying to fake the funk.
On Snapchat, you only have you.
4. It's the Best Party
Logging into Facebook and Twitter lately feels more and more like walking into The Buckle and having commission-driven workers trying to faux-help you into buying stuff you don't want.
Snapchat, on the other hand, is like having coffee with 10 people who all wait their turn to speak and share things that you actually want to hear.
Engagement is high because we actually get to choose what we want to hear.  Most of your friends (and potential customers) aren't on snapchat and that's actually a good thing.  Because unlike Facebook or Twitter, 100% of your followers are actually going to see what you post.  There's far less competition from people vying for their attention, and dollars.
Because the only metric you can see is who viewed your snaps, the incessant begging for likes, shares, hearts and whatever the hell other vanity metrics there are is NON-EXISTENT.
If somebody is following you, they're really following you.  If I post 12 snaps in a day, that's two minutes of your life you're giving me.  And since people can't afford to give two minutes each to every one of them, you'll see everybody on Snapchat is following very few people. And that's a good thing.
Here's How to Rock it at Snapchat:
Know your audience – Snapchat is like early Instagram. Raw. Real. Behind the scenes.  Don't come on Snapchat with some professional lighting or trying to hit the perfect angle.  On snapchat, they want authentic.  If you can help it, never do a second take.
Tell a story – If you want to crush it on Snapchat, set a narrative. Random snaps are awesome, but if you can create a story to go along with your 24 hour Snapchat Story, you'll have people watching every day.
One on one – The best part about Snapchat is the ability to build relationships one on one. Every single person who has added me on there in the last week or so (and going forward) has received a private video just for them. Snapchat is a messaging platform with some rad storytelling features.  Never forget that.  I send snaps to people all the time replying to their stories and often, get one back.
Down, not up – . In fact, change it up every once in a while. If you make 20 snaps in a row without moving around, people are going to stop watching.
Jab, jab, jab – Use your snaps it to build a relationship with people (aka Personal Branding) and not to push people to other social channels, your site, or your email list.  If you're awesome, people with use Google and find you. Every snap is a chance to use at least one of…
The 3 E's – Educate, empower, and entertain. The same rules that I go by for posting on all other social. If you watch one of the most popular Snapchatters in the world, DJ Khaled, he does this in every single snap.  He teaches you, makes you feel like you want to be more, and/or makes you smile and laugh.