Why do I read so many books.
Why do I write.
Why do I want to start making YouTube videos again.
Why do I learn UI/UX, web design, video editing, etc.
Why do I write newsletters.
Why am I starting a writing habit (again)?
It's a question that I ask myself a lot (not audibly, that'd be weird).
And the short answer is because I just don't know who I am without that part of me any more.
It's just who I am.
I'm not super famous. But, apparently I'm internet famous enough that every one in a while, I have the privilege to answer the question:
"Why do you do what you do?"
and to date, the best answer I've given is that I can't "not" do it.
My mentor from afar, Bobby Kim, echoes the same here:

Only do this because you can't not.
Man…
Just let that hit you for a minute.
If I can walk away from this pursuit, I probably should.
Get out now. Live a safer, happier life. Doing things this way certainly isn't required to be happy.
Until it is.
Ryan Holiday says that he writes to get all of the things inside of him.. out. He also notes: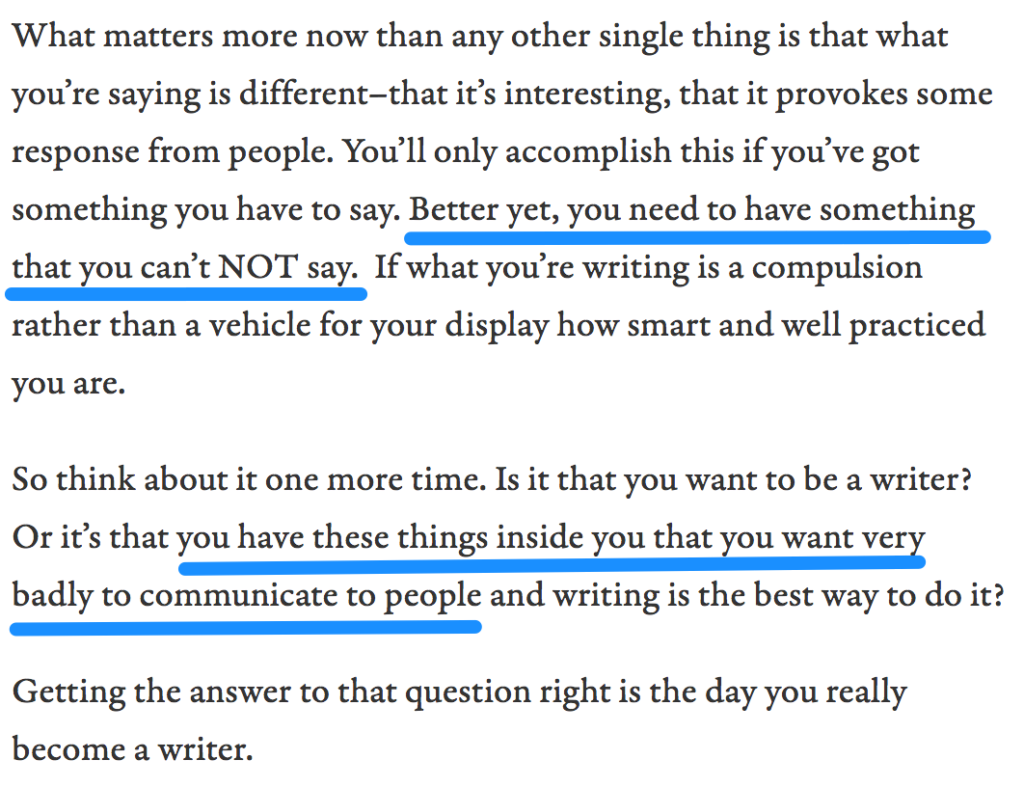 The day you become what you want to be is the day you can't not.
How I'm Starting a Writing Habit (Again!)
BJ Fogg, a behavioral psychology and founder of the Stanford Persuasive Technology Lab has said that to build a large habit, you can find early success by starting with a habit so small that it'd be silly not to do.
Instead of "flossing my teeth every day," start with "floss one tooth."
Just one.
Ridiculous, right?
This is echoed by Tim Ferris in the 4-Hour Chef where he discusses the importance of early wins when learning a new skill. Having that initial momentum is key to fueling yourself past the initial novelty phase of something new.
I just read this beautiful article by Cait Flanders where, at the end, she lists resources and other things she consumed that month.
"Wow, does she just publish an article once per month?" I thought to myself. (Answer, Yes!)
I felt encouraged that I could pull my the best of my (not so) weekly newsletter and other learnings into one article per month and do it the best that I could.
While writing isn't new to me, writing on this website might as well be. I'm so busy writing for my clients (and myself, elsewhere on the internet) that I often forget to write here.
This is evidenced by the last few articles published roughly one year apart from each other.
So the goal is to start writing again. Not for SEO, but because I can't NOT write.*
*Okay, a little bit for SEO. I can't not do SEO research on my writing at this point in my life.
Deciding to Write is the Most Important Part
(Note: This doesn't just apply to writing.)
You have to be it now, to have it later.
You ARE fit, way before you ever gain muscle.
You ARE rich, way before you ever have money.
Huh? How's that possible?
Talk to anybody who ever made a life-changing decision and they'll tell you they made it way before they saw the results.
They resolved to be successful way before they ever had any success.
They resolved to be fit, when they were still fat.
The solution for me is focusing more on becoming the thing I've resolved to be NOW than considering what it'll be like in the future.
Second, I'm not letting anybody try to hold me back from what I want in 2018.
People, meaning well, will tell you to slow down. Choose a smaller goal at first. Don't try to pursue multiple goals at once.
Screw.
That.
Be the anomaly. Be the person who found a new career, lost the weight, asked their lover to marry them, and travelled abroad all in the same year.
Resolve not to let anybody else's well-intentioned (because it always is) "advice" hold you back.
Today is a day just like any other.
It's a great day to get to work.
Things I Read and Enjoyed This Month:
Books:
Own the Moment by Carl Lentz (finished)
Artemis by Andy Weir (finished)
The Happiness Project by Gretchen Rubin (in process)
Articles:
The Misery Business (Sadness as Rebellion in Youth Culture) – I'll forever try to keep an eye on youth culture. Devin O'Neill is fast-becoming one of my favorite writers.  His last piece on The Hundreds blog about how The Matrix relates to where we are as a culture in 2018 is stunning.
Video:
John Letterman's interview with George Clooney (Netflix) – Clooney drops a thought in here about the "why" behind of all his humanitarian work is how he's basically "won the lottery" and feels that he's been given the charge to spread that around.  The idea of "stewardship of resources" is something that I think about often and it was exciting to hear it echoed.
Quotes Worth Sharing:
"Talent is almost always a word meaning "I didn't realize you get up at 4am to do this."
and…
"You have a thousand bad drawings in you. The sooner you get them out, the better."