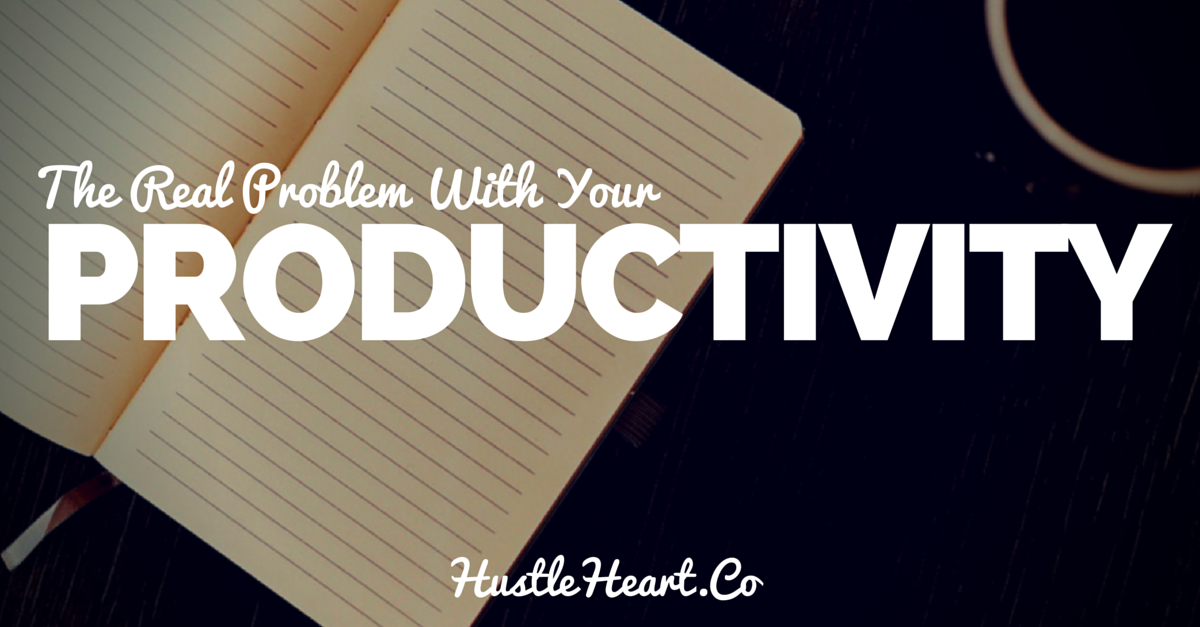 A Quick Story
When I started my ventures into independent entrepreneurship, I had zero time management skills.
It drove my wife crazy.
Despite that, in the past 5 years, I've built…
That's a lot of TIME and a lot of DEDICATION and my wife had to put up with a lot.
The Problem
I always thought that I just needed more time.
So I started staying up later and getting up earlier.  I started using my lunch break and planning period at work (I'm a teacher) to work on my business.
I literally squeezed every ounce of time out of my day, but as the businesses grew, it was never enough.  No matter how much time I put in, I always felt like my head was slowly going underwater.
I started having only what I can describe as panic attacks.  I started having to close my eyes for 10 minutes every day on my lunch break just to function.
So I did an inventory of my time and found that despite my perception, I was still wasting a lot of time.
A Moment of Clarity
In my time inventory, I found that I was wasting a ton of time.
I was wasting about 30 minutes per day watching Netflix before bed.

I was wasting about 30 minutes per day interacting on social media, convincing myself it was helping me "network."

and a WHOLE lot more
So I started doing what I should have been doing during that time.  I slept when I was supposed to sleep. I worked when I was supposed to work.
And this is where I got clarity.
It wasn't like the heavens parted and cherubs descended with a scroll made of unicorn hair and gold leaf revealing an eternal truth to me.
There was no "moment" where I took the red pill and Morpheus lifted the veil from before my eyes.
I just noticed that there when there were no more hours left in the day for me to work, I needed to start auditing what I was working on during those hours.
The Real Problem with Productivity
The real problem wasn't that I wasn't working hard enough.
It was that I was working too hard and not being productive.
In order to be productive, one must actually produce.  And not just produce marketing materials like tweets and Instagram images.
You actually have to produce something worth promoting.  Jiu Jitsu gis. Blog posts.  Ebooks. Courses.
I was proud to be a martyr for my hustle.  To tell everybody how I was killing myself day in and day out and get praise for how hard I worked.
I loved it when people would tell me they "have no idea how you do it, Brendan."
But what they didn't realize was that I was just treading water.
"Life is like going the wrong way on a moving walkway. Stand still and you go backwards. Walk and you stay put. Gotta hustle to get ahead." – a musing from The Farrelly Brothers
I had to learn that, sometimes, hard work isn't enough.  It's what I did with that time that would make a difference.  I found that I was working hard on easy tasks in order to put off the more difficult ones.  That I was using my "hustle" as a substitute for doing the work that would actually move my business forward.
The Solution
First, I found more time to work in and on my business.
I cut out all of the chit chat, saving me about 5 hours per month.
Then I changed how I posted to social.
Most importantly, I changed everything about how I worked on things that mattered.
And, for the first time in my life, I actually got stuff done.  My business grew more in the next month than it had in the past year (this course will do that for you, too).
How to Apply This To Your Business and Family
Productivity for an entrepreneur dad is twofold:
First, how we get more time get work done.
Second, how we manage and use the time we have.
The Productivity Fundamentals Course provides a precise blueprint of how to get more time to work on your business and then how to use that time to its greatest effect.
"I would have written a shorter letter, but I did not have the time" – Blaise Pascal, French Mathematician
This course has been created with the most brevity possible because, frankly, entrepreneur dads don't have time to watch a course with 5+ hours of video. At least, not if they want to be successful.