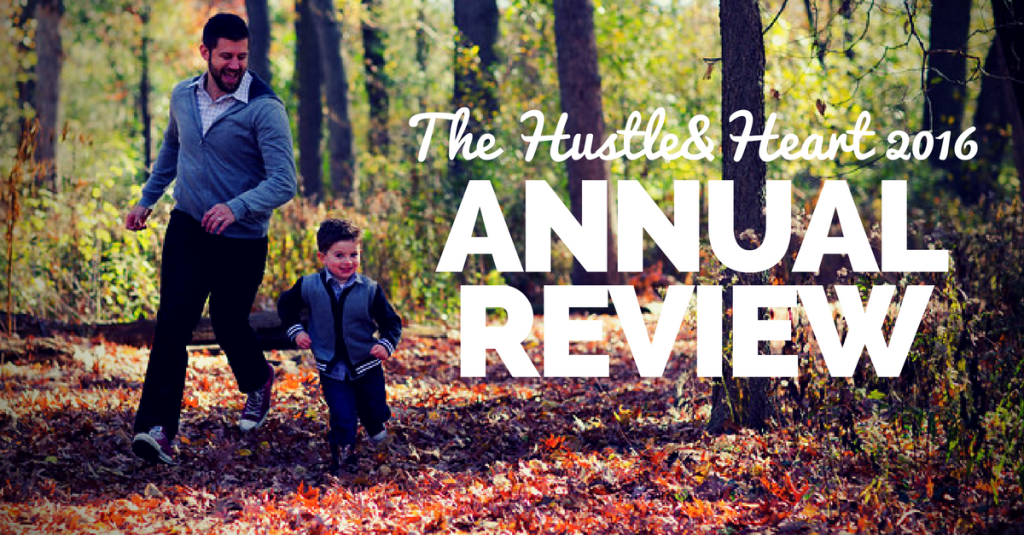 Man, I miss writing. I wrote less in 2015 than any single year since I started building online businesses.
But, we'll get to that shortly.
Between the hours on 9pm and 11pm, and a few weekends, I cut off all work on my new marketing agency to focus on reflecting on 2016 and planning my 2017.
And this is incredibly important to me because my plans in my last annual review went to crap right away.  I met almost none of the goals that I set in there because, as it was my first ever, my goals were complete unrealistic.
This post will focus on reflection of this past year and the next will be focused on plans for 2017.
What's wild about 2016 is that I did things that every single entrepreneur dad on the planet can do. I didn't do anything so amazing that it should feel like it's outside your grasp. If it does, it just means it's a few years of hard work away.
You'll be here soon.
Similar to last year, I am happier than I've ever been. And that's a choice. We'll dive into that below as well.

Here's what worked, and didn't work, for me in 2016:
WHAT WENT WELL IN 2016
I sold my business. It was so damn awkward having to pretend I was still running this business that I loved while I was in the process of selling it. It took nearly SEVEN months for it all to go through. I sold GiReviews.Net to one buyer and the entire Ok! Kimonos brand to another. I'm extremely happy with both sales because the buyers are both improving on what I've done and that makes me extremely happy.
But it was hard. Letting go was hard. Quitting was hard. I've worked with intention to surround myself with people I can look to in these kinds of situations and I called on all of them throughout it.  My mastermind group, my family, and internet friend Jason Zook played pivotal roles during the sale process.
In the end, it was a very simple decision, but it wasn't easy.  Nothing that matters ever is.
The  second biggest decision that I had to make was hitting the pause button on this blog. I just can't handle being one of those fake gurus that teaches online business.
I totally could have, too. I could sit on my laurels of selling my two businesses (never telling you what they sold for.. it wasn't much) and trying to parlay that into you believing I was a guru and transitioning really slick into selling courses on courses and webinars about webinars.
But F that.
My goal is to again prove that I can build a business that doesn't ruin my family.
And then I'll come back here and tell you all how I did it.
I also don't want to teach as I go because that quadruples the work.  If I have finite time and energy to make a business work, I don't want to divide it.
My goal has never been, and never will be, to make all of my money teaching people have to make money.
So I stopped everything here. No new coaching clients. No new articles. I need singularity of purpose because in the past, I was trying to simultaneously run:
Ok! Kimonos
GiReviews
My podcast
Coaching clients
The Productivity Fundamentals Course
Sidepreneur University
… and that was a mess.
So instead, I'm starting a new business: a digital marketing agency for photographers.  I discussed the entire process of how I decided on this venture and why in an episode of season 2 of my podcast.  It's definitely worth a listen.
I'm also writing this review mid-December because I'm launching the agency in January and want to devote 100% of my effort to it.

We also had a baby in 2016.  My son, Finnley James was born on January 8, 2016.  His birth and life has been a wild ride so far (my wife almost delivered him in the car… a story for another time). I'm extremely grateful not only for him, but also for the clarity you get with a second child. Nothing is a deal-breaker and the things you thought were monumental are now common.  The realization that every kid is different is both stressful and calming.
My older son started pre-school.  We've smothered the poor boy with love and affection since the day we met him so this is an important milestone for us, maybe even more so than for him.
I started to mend my relationship with my father.  The details here are unimportant but I want to stress to you: if you don't have the relationship you want with your dad, spend this year working on it. You might not even make any noticeable progress, but after thirty+ years, it all started with a text and an email for me.  I'm terrified by regret and knew that if I didn't work on it now, I would regret it later.

I got two new tattoos. The tattoos are less important than what they mean. Permanently inking reminders to myself on my body matters so much more.  I've written about Memento Mori in the past, as well as Amor Fati.  But now they start at me multiple times per day reminding me of what's important so my actions better map to my faith, family, etc.
I made money. Not an insane amount, but enough that I could take care of my family when we needed it and treat them well. I could financially support projects my friends were engaging in (here and here) and that's important to me.
I detoxified myself from the internet. Not only was I wasting a lot of time consuming content that wasn't moving me forward in life, but I was also becoming extremely cynical and jealous of the success of others (or my perception of their success).  I hunkered down and analyzed that, more than an internet problem, I had a comparison problem and by focusing on that, I was able to make big strides.  This experiment also became a great episode for the second season of my podcast.
Speaking of, I released a second season of the Entrepreneurs and Coffee Podcast!  I spoke with entrepreneurs that I REALLY wanted to talk to (not ones that I thought I was supposed to because they're 'internet famous') and I learned a TON. I also got to share a lot of advice and things that I learned during the past year as well.  In fact, I find that it parallels this year in review quite well.  You can listen to it here.

I spoke at an awesome business conference here in Indiana.  The easy coast is all talk, the west coast is all hype, but the Midwest is hard work.  There. I said it.
Business Domination Summit asked me to be the keynote speaker this year and I was honored to attend and to speak about podcasting.  You can check out all of my slides here.
I read some great books.  The most important of which is The Obstacle is the Way by Ryan Holiday.  Here's a short list of some others that were meaningful to me:
Ready Player One
Armada
Kanye West Owes Me $300
The Dog Stars (SO GOOD)
Shoe Dog
Level up Your Life
The Graveyard Book
Ego is the Enemy
Currently Reading: Tools of Titans
If you have questions about any of these, leave a comment below and I'd love to chat about them!
In fact, The Obstacle is the Way was so meaningful to me, that I got the author, Ryan Holiday, to help fund a classroom set for my high school students.  All 180 freshman at EPIC Academy in Chicago have read through most of it.  And because they're 14, too many of them won't care, but some do and have really appreciated reading it.
As it was last year, writing this out is really therapeutic.  I'm constantly in a state of 'future goals' and never feeling accomplished, but writing this out and forcing myself to think about all of it really puts things into perspective.  I made really important decisions this year and made a lot of progress, even though I'm starting over.
Now to the less awesome stuff.
WHAT DIDN'T GO WELL IN 2016
The most important part of this reflection is to focus on the things that I had control over. (although it applies to both sides).
It's extremely easy for me, who is in the middle of it, to forget that I'm trying to do all of this on top of a full-time job and we just had a baby.
JUST had a baby!

I have to always remember that I did ALL OF THAT stuff with an infant, a three year old, and a wife whom I love tremendously.
WOW.
All it took was talking to a few friends without kids to remind me how insane this is.  A few comments of 'I don't know how you do it' put it right back into perspective.
I set the bar so high for myself that I'll likely never reach it.
I have to accept that.
There is never a feeling of 'getting there.'  I will never 'arrive.'
However, one thing that hit me really hard this year was the presidential election.  I won't go into details here, but I was pretty outspoken in other places online.  I still struggle day to day to understand how we got here and what is going to happen to my children.  I try to remind myself that other people thought our past president was going to ruin the country (he didn't) and that even though I think our president elect will (he may not, either).  We'll have to wait and see.
Other than that, here's a quick list of things I wish were better:
I let my diet and strength training go for most of the year
Barely did any meditation at all
Wrote very little
I just have zero respect for these things that didn't go well. I've learned from all of them and I am working on changes so it seems quite pointless to spend more time on those things than on what went well.
I had to focus my limited time on the things that would get me where I want to be and that's what I did and what I'll (forever) continue to do.

To be fair, I don't know if I'll write a 'goals' post for this year, but in June of 2017, I will complete an exhaustive writeup on what I did to launch my digital agency.  If you want to be notified of when that happens and get some other rad stuff just for entrepreneur dads, click here.