2019 marks my fifth annual review. Why do I keep doing it?
The true value of this process is like most good writing, not in the act itself, but in the quiet planning and reflection that surrounds it.
It's accessing parts of my memory nearly atrophied in the maelstrom of the past year.
It's putting on my favorite Spotify playlist and agonizing over words.
And it's consistency.
You can't buy consistency and I don't believe anybody is born with it. It's just me, fighting day after day, and in this case, year after year, to keep going.
I keep fighting, or I lose.
Nothing that I've done this year is special. Nothing is unique. It's just me doubling down on the only manifesto that's ever had substantial impact in my life:
Make more, publish more, ship more, distribute more.
Do… more.
But I don't need Gladwell's 10,000 hours. Neither do you. We can be dangerous with far less.
In a chat earlier this year with Miles Beckler, we talked about focusing more on 1,000 iterations than the hours.
And that's what this year was for me, and what I'll lay out below: putting out so much content that I can't help but learn and iterate and grow exponentially.
But in this review, promise me two things:
You won't judge me.
You won't judge yourself.
We're all finding ourselves on different chapters of (very) different stories.
Comparison is trap and a liar.
My Current Projects
It's wild to see how my stack of projects has changed in the last few years. In my 2015 annual review, it started with:
Ok! Kimonos
GiReviews
Entrepreneurs and Coffee Podcast
Coaching clients
The Productivity Fundamentals Course
Sidepreneur University
And now, only one of those things still exists (the E&C podcast, which is paused), and my focus is on:
Clique Studios
SEO Consulting
SEO for the Rest of Us (free newsletter, paid course and community)
Photo MBA
This represents a complete evolution not only as a creative entrepreneur, but also as human. As humans, we vastly overestimate what we can do in a day or a week, and we vastly underestimate what we can do in five years.
Part 1: What Went Well in 2019
I like to break down this section into two parts:
Hustle – what I've accomplished in business and career over the past year
Heart – what I've accomplished in family and health
First, the hustle (Business & Career):
In terms of content, I had an extremely high output this year.
I published over 230 pieces of media:
30 newsletters (and at least as many sales emails)
47 videos on YouTube
57 podcast episodes
65 blog posts (not including guest posts)
Below, in the section of what didn't go great, we'll talk about how this may seem like high output (and it was), but why I'm still really disappointed in it.
Launched SEO for the Rest of Us in January (and again in October)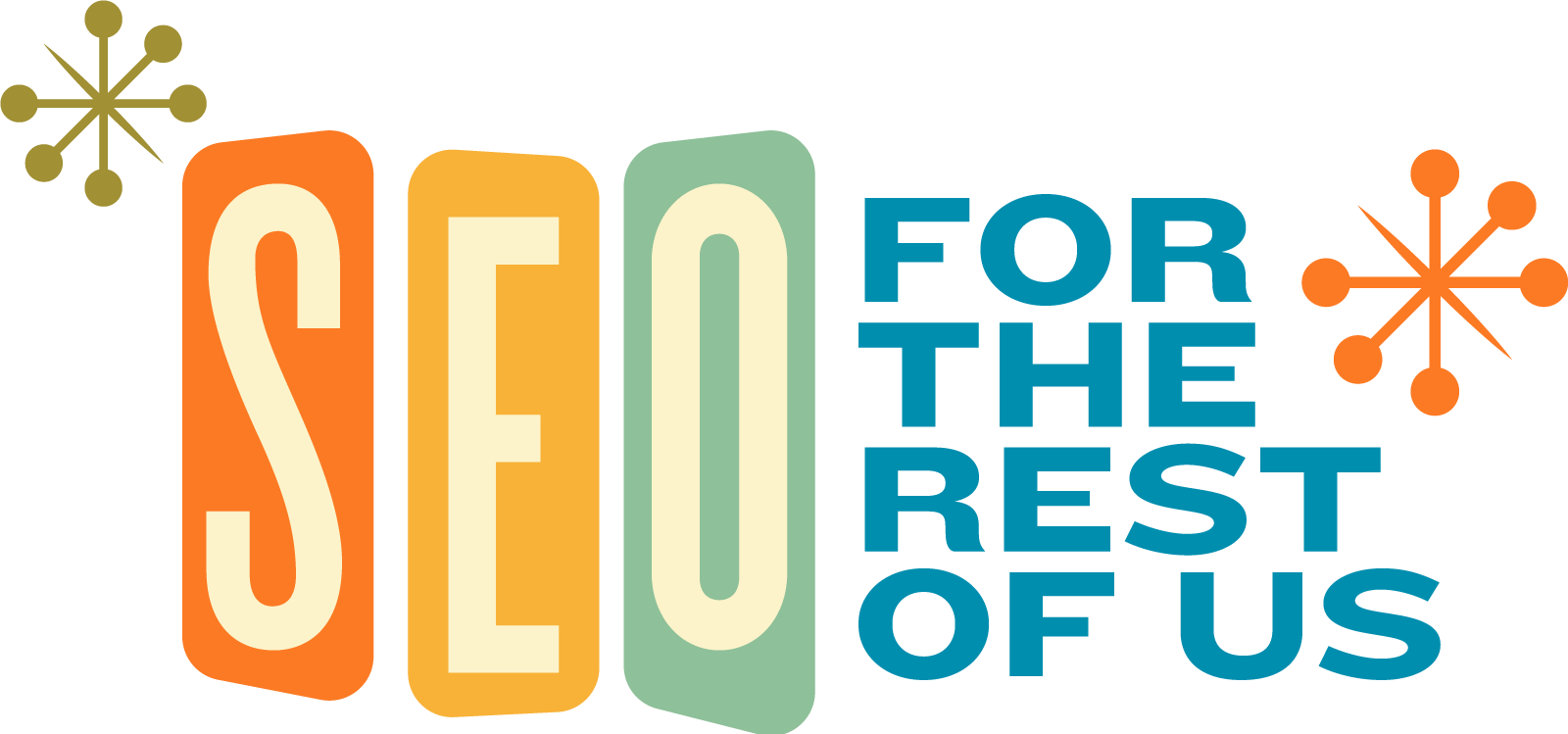 I feel like this part of my year could easily be it's own review, but with 160+ students enrolled, I can't express how grateful I am to be able to teach what I love to so many who've invested in the course/community.
This effort, similar to all of my other efforts, was really just to learn one step at a time:
First, with a very minimal launch only to my email list (January)
Growing my list with media and a challenge (March – September)
Adding in affiliates and a price increase in the second launch (October)
All building to an even larger launch, and recurring membership, in 2020.

In reflection, the two launch weeks were the most hectic and stressful weeks of my 2019, and also the weeks where I felt like the biggest failure (for many reasons), but now I can see they were my highest-grossing in terms of revenue and pivotal moments for my business.
Now, when I feel like this in the future, I can remember I'm not an actual 'failure,' but merely doing difficult (and important) work.
In March, I launched 100 Days of SEO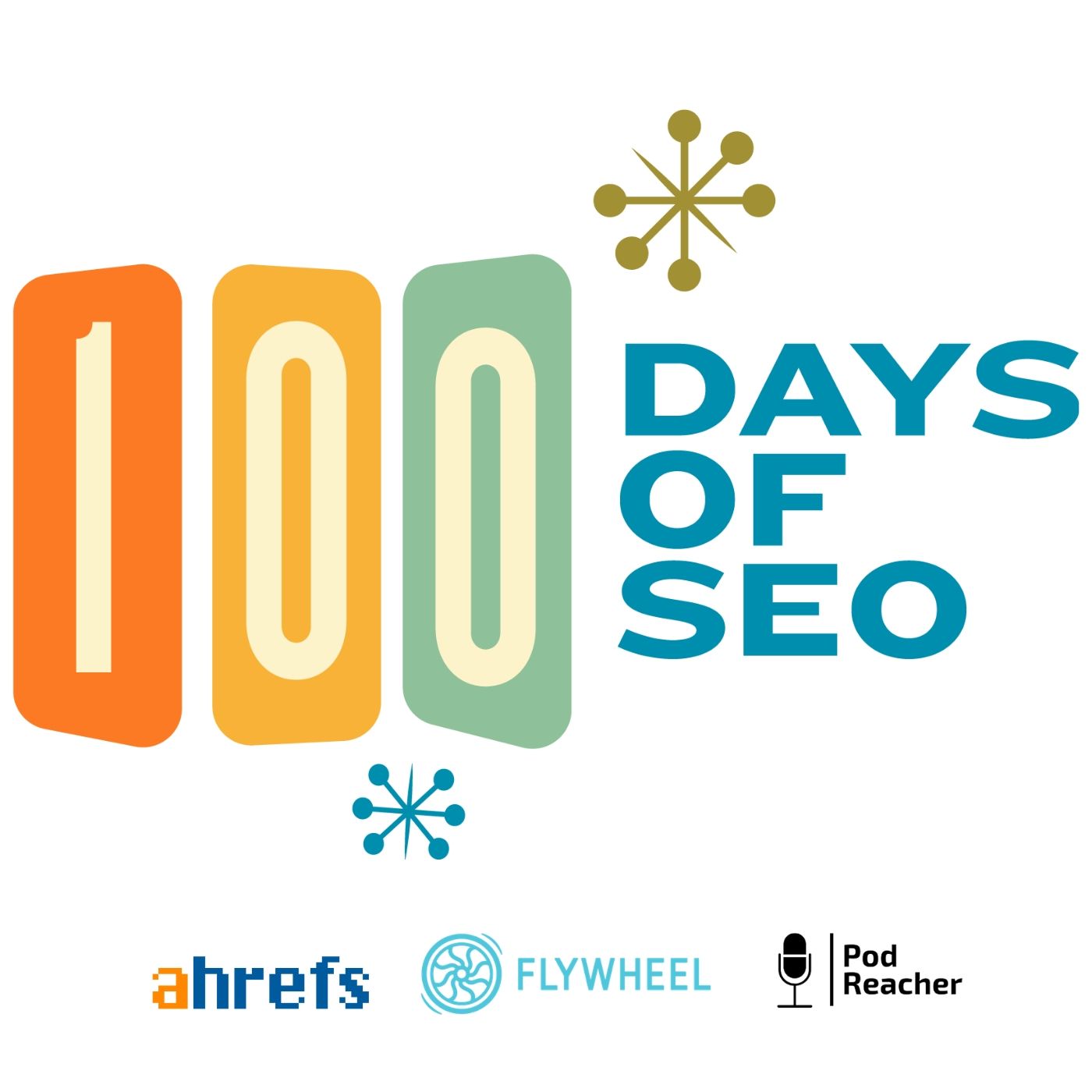 In February, barely a week into teaching the first workshops of my infant course/community, I decided to launch my most ambitious project ever: 100 blog posts, 100 podcast episodes and 100 videos in 100 weekdays.
As you saw above, it was a successful effort in terms of volume, but still far short of what I had planned. It had the intended effort of learning how to scale content, which makes me a better leader for my own business, but also within a company.
Consulted with some of my ideal clients
Having the opportunity to support the work of people I love, like Flywheel and WP Complete, has been amazing. I had no choice but to leave all imposter syndrome behind when people I admire started asking to work with me and treating me as a peer. ??
Here are some of the results from a client (not WP Complete or Flywheel), that I'm super proud of. After years of slowly dying search results, look at this rebound: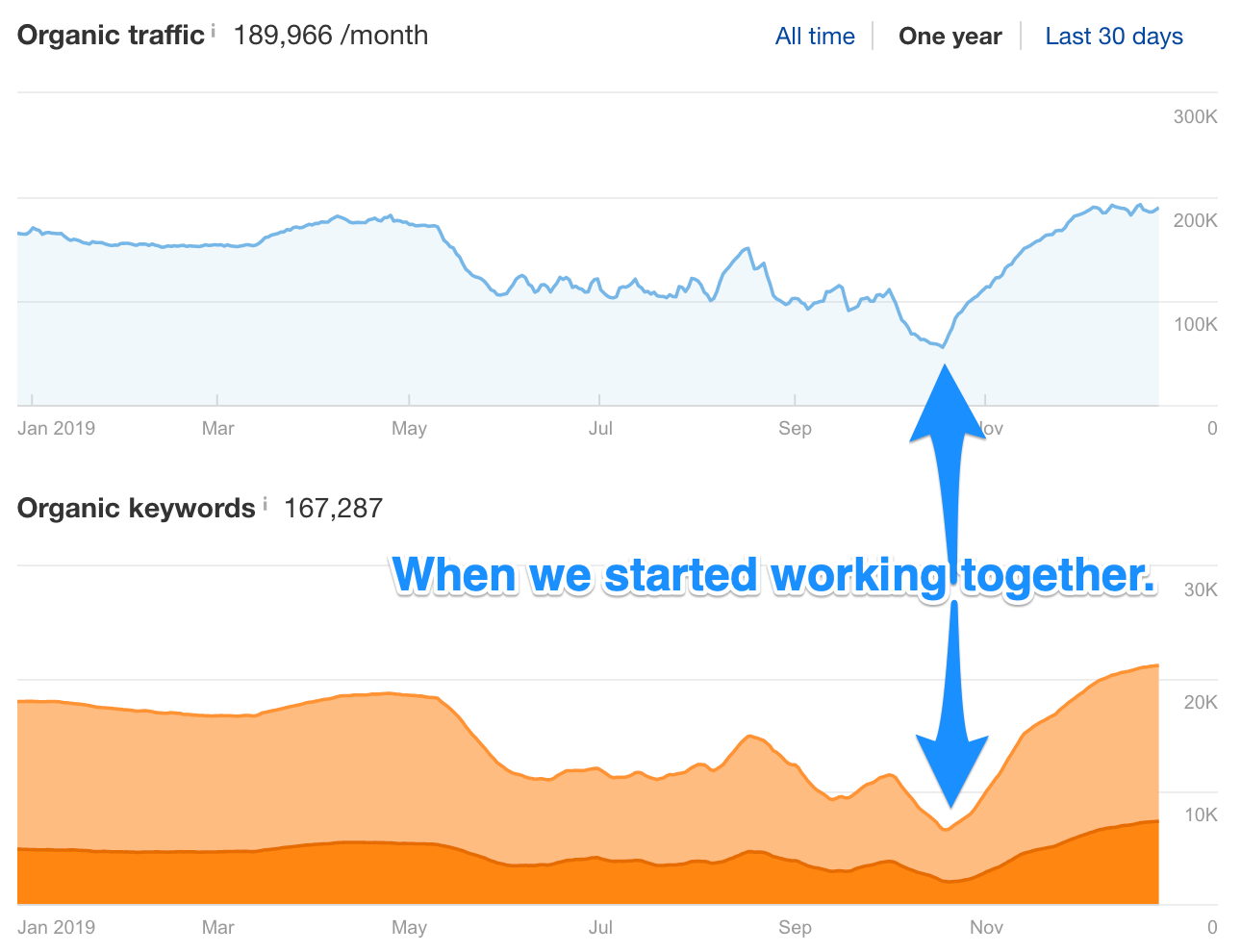 Attended Traffic Think Tank, FlynnCon & Content Jam
Attending events is one of my favorite things in the world, but a (far) distant second behind time with my family. So, I have to be really picky about events I attend. This year, there were three:
Traffic Think Tank – This one-day event in Philadelphia blew me away. The entire room was filled with SEOs who do the work, day in and day out. People you've never heard of running search marketing for all of the brands you have heard of. I'm already able to trace back measurable growth, friendships, and revenue to attending this event.
FlynnCon – I've known Pat Flynn for over five years, having worked on his team, and been one of the first 50 guests on his podcast. So, when he announced his first event, there was no way I could miss it. I brought home some great relationships, great tactical business advice (especially on the topic of memberships) but also some stellar advice about the intersection of business and family.
Content Jam – A local 2-day event here in Chicago, I really enjoyed it and thought it was worth it to meet up with people. I enjoyed the first-day workshops, but the second day (keynotes) really fell flat for me and I ended up leaving early.
I was fortunate to be on a number of excellent podcasts:
Here's a few favorites from 2019 (links go to my specific episode):
Worked with great freelancers and partners
Big thanks to my 100 Days of SEO Sponsors: Ahrefs, Flywheel, and Podreacher.
Additionally, a huge thanks to Elise, Jakub and Levi, all of whom were invaluable in supporting all of the content I put out in 2019. Thanks Jim Viola of Damn Good Brand for the 100 Days of SEO / SEO for the Rest of Us logo/branding!
Thanks also to Bud, Max, Migs, and Kayte for supporting the work of our team at Clique.
Revenue went up
I wanted to cover this last (I'll explain why momentarily), but here's how my non-career revenue has grown over the past three years:

I see revenue as a byproduct of the work.  All of the work above, and all of the time/effort put forth previously, is what resulted in this increase.
And since we're talking about money, here's how the last three years have shaken out INCLUDING the money I make at work: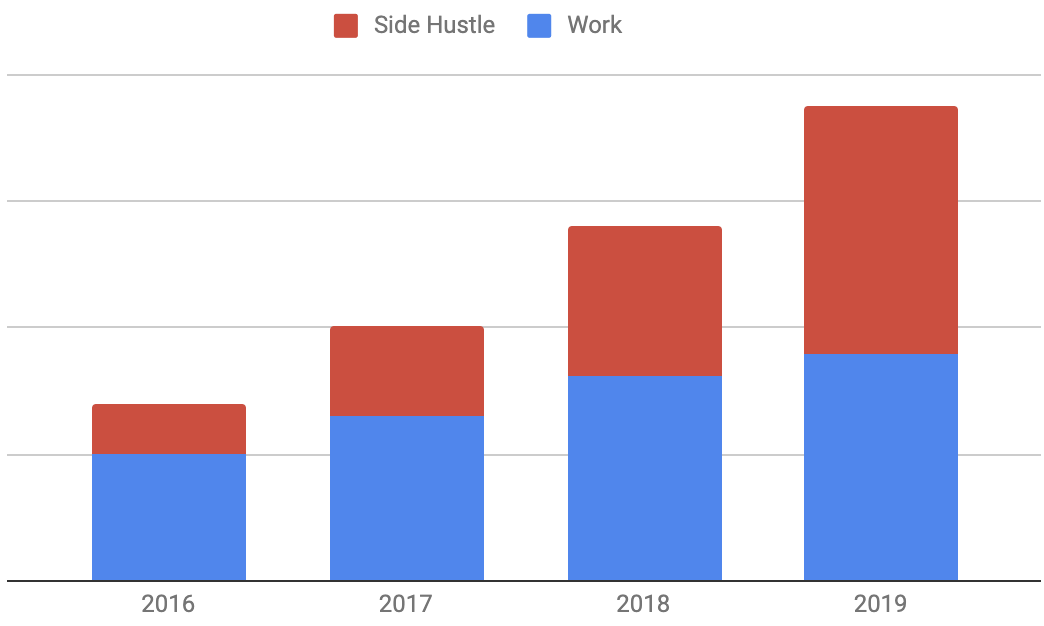 Honestly, what went BEST this year is something I can't even talk about, yet.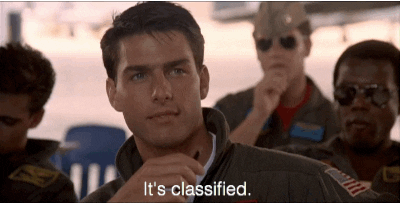 It's not in my nature to be mysterious, but something big is going down in a few weeks. The first people I'm telling will be the members of SEO for the Rest of Us, and after that, my newsletter. ? you'll want to be on that list.
Second, the heart (Family & Health)
I love the photo I used as a featured image for this review, but let's be honest, we all look pretty put together there.  The photo below, however, is so much more "us":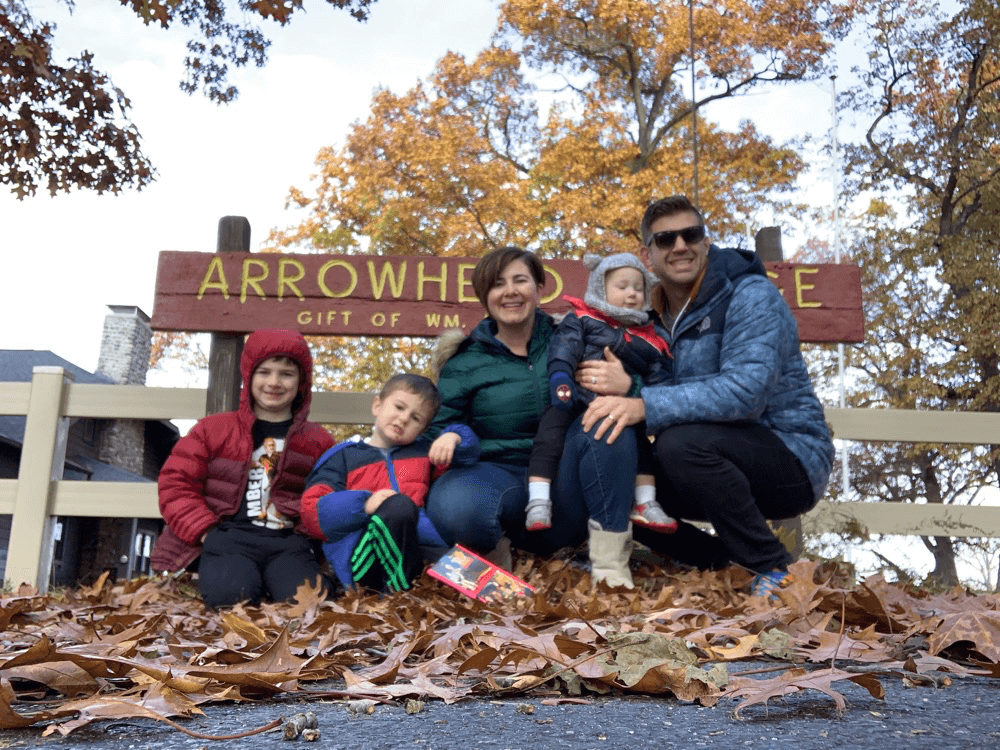 Mostly out of focus, generally out of sorts, but in the middle of a road trip and SO HAPPY.
Here's how family and health shook out this year:
I really enjoyed fitness after discovering Ryan Fischer
I've spent THOUSANDS of dollars on fitness products (coaching, nutrition, info products, and my garage is a low-key Rogue Fitness Advertisement).
But most of that never helped me get results.
Then, one day around the start of August, Instagram decided I'd love this video with Ryan in it. I had no idea who Ryan was or what was going on, but I saw the workout and tried it that night.
I started watching more of his videos and, in short order, purchased one of his programs. This sums it up really well:
Truth: His programs are fun AF.
I even learned an important business lesson from him: People buy people, not products.
I started going to therapy (again)
I could share my revenue numbers for 2016 to today. I could also share that I'm typing this from my car outside my first therapy appointment since 2016. A more complete picture helps give context. For my situation, I should celebrate both of these milestones.

— Brendan Hufford (@BrendanHufford) June 4, 2019
I invested significantly in my style
This year, I got tired of looking like I worked at Pacific Sunwear (or I was somebody's dad taking them to Warped Tour).
So I decided to invest in my style, and not just in clothes, but in education. So I bought a course from somebody I trust, that provided exactly what I needed, to get me to my goals.
Yes, I paid ~$500 for an online course on style.
I'm very much a work in progress, but I think if you compare me teaching SEO at the University of Chicago a year ago 2018):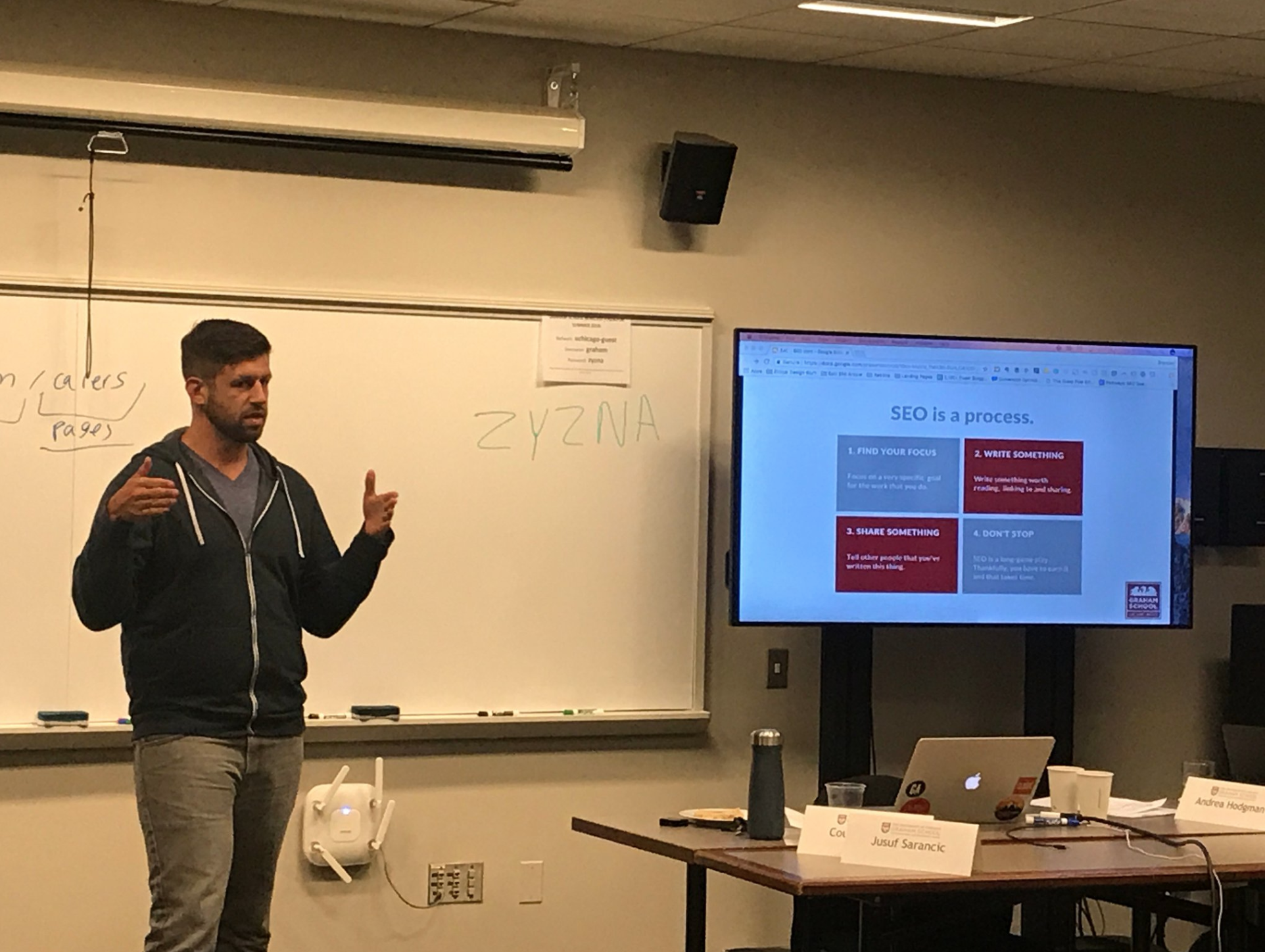 to me teaching there again this year (2019), you'll see the difference.: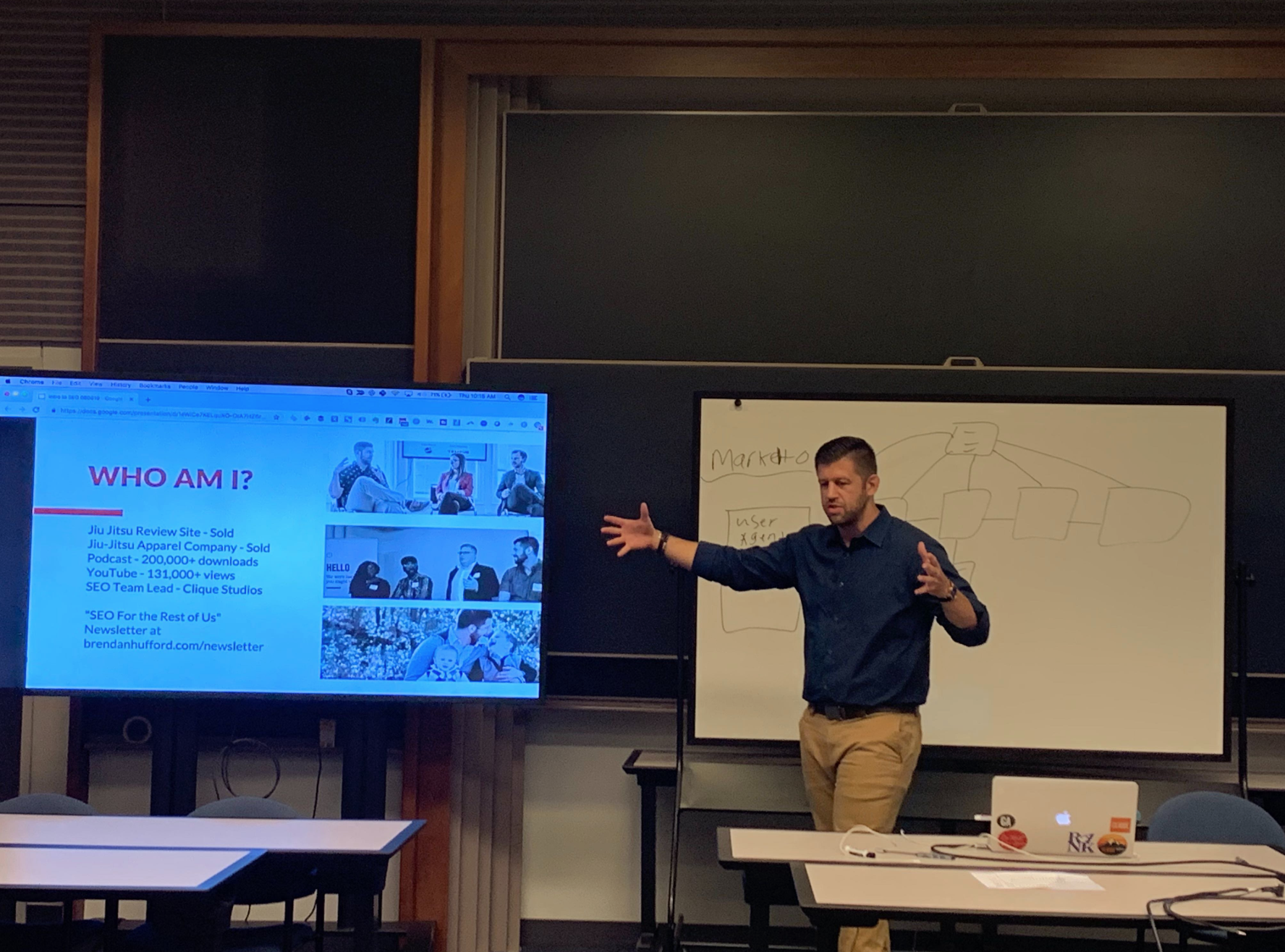 Wow, seeing those two photos in a row, I clearly LOVE talking with my hands.
I emailed Peter Nguyen of The Essential Man, to thank him for everything:
I can feel it and I know the students and clients can as well. All the things and changes style brings you are happening here (I've also lost 20 pounds, my family life is infinitely better, and my career is taking off).
Developing a more classic, almost effortless, style has paid off in so many areas of my life.
My children were/are healthy
This went extremely well this year. The past few years have seen the hospitalization of my kids for various reasons so, I can tell you firsthand, nothing else matters when this happens. The health of your loved ones is a gift and should be treated / revered as such.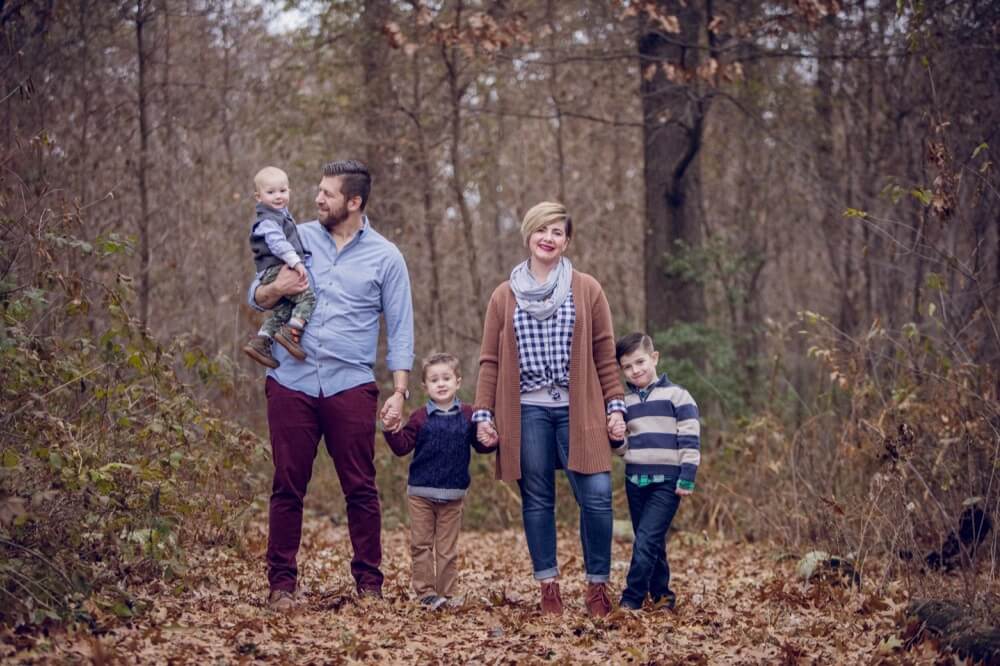 I took my wife and kids to New York to visit family
I try to visit my grandfather as much as possible. In 2012, he gave me the best business advice I ever received ("get everything in writing"). Of course I didn't listen and it almost ruined my business.
So in 2017, when I visited him and he said, "Make yourself indispensable in your career," I listened and that's led me to where I am today in my career.
In this trip, I asked him again what advice he had for me and he disappeared back into his office, returning with a stack of papers that must be older than me.  He told me to read them and, while I haven't yet, I'm looking forward to it.
I won't make the same mistake again. ?
Part 2: What Didn't Go Well
What's wild about this process is, over time, the fuck-ups and small mistakes are less. Two big things didn't go well this year:
1. 100 Days of SEO is half-done
So this was supposed me be done by July and here we are in December only 50% complete.
In retrospect, I took on an extremely ambitious project in the midst of another new project, with a lot of other demands. So would I say 100 Days of SEO was doomed from the start? Absolutely not. In terms of ROI, it's probably the most important work I've ever done.
However, it was a GREAT wake-up call for me to realize that I need to think through the actual work of things before taking them on, or dedicate more money to things where I don't have time. I love editing videos and creating thumbnails but it takes me 10x the time that it'd take a designer/editor and they'd create a better product. I'd have a better product AND more time.
I believe in doing things that are fun, but I'm learning when to leverage my time/money to accomplish my goals.
2. I launched a product that totally bombed (AKA my biggest failure of 2019)
I haven't talked about this publicly, so I hope this gives you perspective that you can do everything right, and still tank.
My side-side project for the last few years has been PhotoMBA. Originally, I thought it'd become an SEO agency for photographers (as most of my early clients were photogs), and later I wanted to build an email list to launch products/services to.
Over time, that list grew to over 3,000 photographers.
In 2017, I launched a series of $97 workshops ? one person bought them. That's a 0.03% conversion rate for those of you keeping score.
In 2018, I launched a $9 per month membership community ? 10 people bought them.
10 people on a list over nearly 3,000. Nobody wanted $900+ premium services and less than 1% of them wanted to pay even $9.
Something was wrong.
I'd done everything right. Right?
My articles get a ton of organic traffic and convert really well into subscribers with excellent lead magnets.
However, I started to realize there was a problem when 27% of people unsubscribed from my welcome email giving them their lead magnet.
I still couldn't figure out what was wrong, that was until my buddy Ken from MastermindJam, turned me onto Brian Casel's Productize podcast, specifically this episode with Nate Grahek (of Sticky Albums). Nate mentioned the incredible rate of churn (photographers cancelling their subscription to his product) and he noted that this is just a part of the photography industry.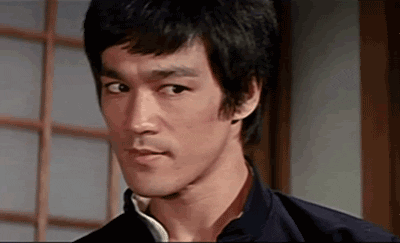 This was a big lightbulb moment for me. Some of the top photographers may hire me, but that's limited the top 5 in each major city, so less than 100 nationally. Not good odds.
Also, most photographers quit in their first year. Far higher than those who start other types of businesses.
Many of them don't consider themselves to be anything more than hobbyists.
But beyond that, photographers, even ones who sign up for emails about business, do not want to spend money on their business.
They want better cameras and they want to learn how to edit photos.
No judgement here, but they see a better camera and better photos as making them more money, not learning marketing or sales.
Sigh.
After all of my attempts to launch products to them failed, I surveyed my list to see what they did want to learn. Here's what they said:
55% want to learn about taking photos
28% want to learn about editing photos
17% want to learn more about cameras
Soooo……
as time allows in 2020, I'll be updating all of my emails, optins, lead magnets, etc. to focus more on helping them take and edit better photos.
It was a great learning experience and a reminder that we're all just out here testing our hypothesis so even if your ideas aren't working right now, even somebody who knows how to launch successfully, make money, etc. can still bomb.
What's Ahead for 2020
1. Finish 100 Days of SEO by testing a new theory on how to do SEO as a podcaster / interviewer.
2. Grow my newsletter subscribers in anticipation of the October 2020 launch of SEO for the Rest of Us.
3. Give above-and-beyond support to the SEO for the Rest of Us community. I want this next launch to be more about them and what they've accomplished and less about me.
4. Launch and growing two affiliate-focused websites in industries I'm interested in (one where I already know a ton and another where I know absolutely nothing about it).
5. Partner with my buddy Pete of Do You Even Blog on a personal finance site/brand
6. Possibly partnering with few other people on their projects. This is the most interesting kind of project for me right now. I love doing client work, and probably will continue to do so forever, but partnering with people on their sites in a profit-share model is really exciting for me. The site you saw above, where we totally recovered all of their lost traffic (and then some), is this kind of partnership.
7. And again, the big update that I can't talk about (yet).
What I've Learned This Year
1. How to get unlimited focus and motivation
The most powerful force I've found in doing this kind of work is HOPE.
It's the most powerful thing in the world, believing that what you're doing and what's ahead of you will have a substantial impact for you and those around you.
I've felt like this for most of 2019 and it's so incredibly powerful. I'm excited for my current work and my future work is made up of projects I can't stop thinking about. What I'm doing this year will be the best work of my life.
2. Everything is a test
Between my chat with Miles, my successful launches and projects, and my failed launch, seeing things as a test help me to regulate my emotions around them (arbitrarily "good" or "bad"). It also helps me set the goal post more accurately. Completing X number of tests is far more helpful than hours or, even worse, a moving goal post like revenue.
3. If I do it, it must do more than one thing
Everything I've done this year has done more than one thing. For example, updating an H2 tag on a site does just that. It does one thing. The same as creating a YouTube thumbnail.
I learned this year that I need to be doing as many things as possible that do more than one thing.
For example, the 100 Days of SEO project does many things, such as help me:
Make friends with my peers by being able to interview with them and featuring their work in my Mashup Monday episodes
Meet potential mentors, future employers and partners by interviewing them
Grow my audience and email list
Drive traffic to my website
Create evergreen media that will, eventually, result in revenue from YouTube
Grow awareness for my personal brand
and much more
It does way more than one thing.
This was a lesson that I learned at FlynnCon from Joon Han, an awesome, generous leader who just happened to be an attendee like me and taught me more over a few lunches than I could have possibly imagined.
4. Passion x Patience
Doing things that do more than one thing (I'll stop saying that now ?) is one of the best ways to balance passion and patience, or as some may be put, to become "long term greedy."
I'm willing to put time and effort into activities that pay off in the long-term by striking a balance between passion and patience.
This thread is another example of how thinking extremely long-term is effective as an investment strategy (which holds true whether investing in others, or yourself):
In 2015, Tiny invested in @Buffer. Since then, we have bought up every fairly-priced share we can get our hands on and doubled our position.

It was one of the most obvious, no-brainer investments we've seen.

— Andrew Wilkinson (@awilkinson) December 30, 2019
5. You only get 18 summers with your kids
Whew, this one hit me like a punch right in the mouth. Stu McLaren dropped the "18 summers" idea from stage in the closing keynote of Flynncon and I wasn't ready, already reeling from Chalene Johnson, as a mother of adult children, telling us all to pump the breaks on our business and take care of our kids.
Immediately, I was reminded of Tim Urban's article The Tail End.
Now, sure we get more than 18 summers with our kids, God willing, but if you map out your in-person time with them, the years 0-18 amount for roughly 93% of that time.
Once they hit 18, you've only got about 7% of your face time left. Tim notes:
"1) Living in the same place as the people you love matters. I probably have 10X the time left with the people who live in my city as I do with the people who live somewhere else.

2) Priorities matter. Your remaining face time with any person depends largely on where that person falls on your list of life priorities. Make sure this list is set by you—not by unconscious inertia.

3) Quality time matters. If you're in your last 10% of time with someone you love, keep that fact in the front of your mind when you're with them and treat that time as what it actually is: precious."
---
Shoutout to Jay Clouse for writing his entire annual review focused on his learnings (versus the ego-stroking that I may, or may not have, done here).,
As a final Call to Action: What's been helpful in here for you? What can I add to this and further annual reviews? Leave a comment below and let me know.
Rather not leave a comment and prefer keep reading? I've done annual reviews in 2018, 2017, 2016, and 2015 that might be helpful.